Hardscaping Projects in Ozaukee County
Mequon Projects >> Hardscaping
---
Professional Harscaping in Southeast Wisconsin
Stone details create unique landscapes while offering a solid, long-lasting surface. Dress up your home's front entrance with a new fieldstone or brick walkway. Add value and a place for leisure to your backyard with a paver patio. Our professional Mequon landscapers can add a custom flagstone patio with a fire pit, walls, stairs and built-in lighting or use decorative walls to separate areas of your yard and create uniquely defined spaces; you just name it. Stone retaining walls installed by our professional landscapers add aesthetic and functional value to any home. No matter your hardscaping plans, Oberndorfer Landscape Development has the expertise to make it happen.
All of Oberndorfer Landscape Development's Mequon landscaping services are performed by professionals with an eye for detail. From design to installation and maintenance of your stone patio in Mequon, our superior service and craftsmanship will leave you completely satisfied. Trust Oberndorfer Landscape Development to turn your patio ideas into reality. From re-doing your entire outdoor patio space to installing a new fire pit, our team of landscapers has the knowledge and expertise to transform your yard into the area you have been dreaming of.
Contact the Mequon hardscape installation professionals at Oberndorfer Landscape Development today.
Natural Retaining Walls and Wisconsin Landscaping Ideas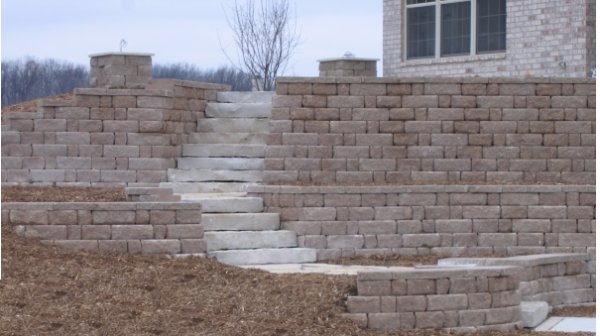 Retaining walls are designed for homes built on slopes, to hold the soil from spilling over and giving your yard more useable space. There are a number of criteria which should be considered before installing a retaining wall. In order to ensure proper and secure installation, it's best to hire an experienced landscaping company, such as Oberndorfer, to design a stable, balanced wall which factors in ground pressure, width and slope grade. There are 5 common types of residential retaining walls:
Cantilever
Cantilever walls are single-layered, built with uniform thickness and a concrete slab base. These tend to be used on steep slopes where there is a significant amount of soil and rock.
Sheet Pile
Also known as piling retaining wall, this wall works best in softer/sandier soil or in areas which don't have the space for a large, wide barrier.
Gravity
The smallest retaining wall, they feature a wide base which gets narrower at the top. This causes it to lean against the earth, effectively holding it back.
Counterfort
Similar to cantilever walls, this type features thin vertical concrete webs installed at strategic intervals along the rear of the wall. This is also used on steep grades.
Anchored
Similar to sheet pile walls, an anchored wall adds cables for increased strength and stability. Anchored walls tend to be used on steep slopes.
Retaining walls enhance your yard's overall appearance, while providing needed erosion resistance. With a variety of styles and stones available, contact the Mequon landscapers at Oberndorfer to choose the best structure and style for your backyard.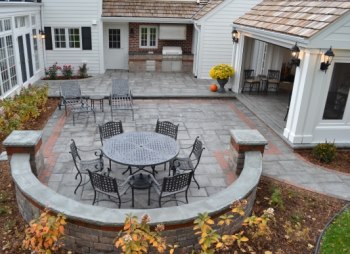 Stone Patio Installers in Southeast Wisconsin
Let's Get Started
On Your New
Landscape Today!
Office Hours
Monday
8:00am
5:00pm
Tuesday
8:00am
5:00pm
Wednesday
8:00am
5:00pm
Thursday
8:00am
5:00pm
Friday
8:00am
5:00pm
Saturday
Closed
Sunday
Closed
262-512-9509
1000 W Bonniwell Rd
Mequon, WI 53097