Composite Deck Builders in Mequon
Custom-Designed Decks for Ozaukee County Residents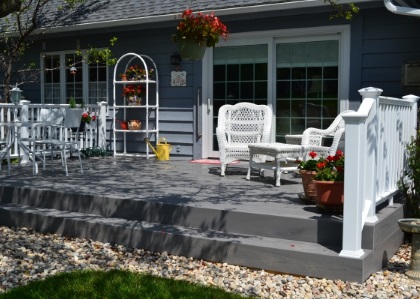 Make the most of your backyard with a high-quality composite deck. Oberndorfer Landscape Development has provided the Ozaukee County area with quality landscape construction since 2000. We work with you to develop a patio that will exceed your expectations and step your outdoor living game up.
Custom Deck Design
Whether you have a uniquely shaped house or yard or you want something specific, we'll design and install a long-lasting deck that will blend into the existing aesthetic of your home.
Build a deck above a walkout basement or an enclosed storage area, with stairs and a handrail leading down to the lawn.
Design your custom deck around a pool, hot tub, fire pit, or outdoor kitchen.
Wrap the deck around a tree you don't want to remove.
Create shade with a deck roof, awning, canopy, or pergola.
Bring the garden onto the deck with flowerboxes, rail planters, or a lattice or trellis for vines to climb.
Keep the deck bright enough for late night parties with custom deck lighting.
Complete the look with your favorite deck chairs, tables, umbrellas, and other outdoor furniture and accents. Composite deck material is available in a wide range of colors, from natural browns to vibrant hues. Choose a color to match or complement your house. Whatever features you choose, your engineered deck will be uniquely yours.
See some custom deck design examples in our gallery.

Get a Quote
View Gallery
Low Maintenance Composite Decks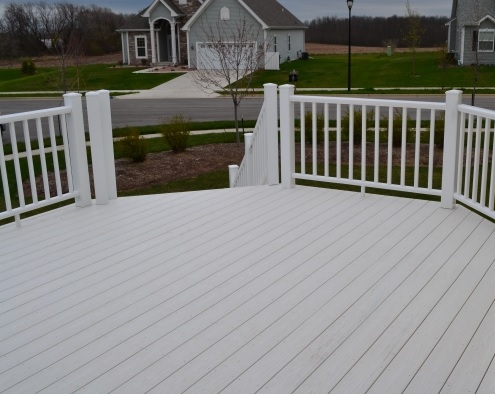 The composite material Oberndorfer uses is made from wood and plastic, providing a wood-like look with none of the maintenance a wooden deck requires. Composite decks are durable through hot summers and brutal winters, perfect for resisting Wisconsin weather.
Your low-maintenance composite deck will never rot, warp, or give you splinters when you go out barefoot.
Composite never needs to be sealed, stained, or painted. The only regular maintenance your composite deck will need is a good hose-down or power washing once or twice a year.
Composite Deck Installation Cost
The price of a composite deck is determined by the square footage of the finished product and the complexity of the finished design. In addition to materials, labor costs are the other major factor to consider when pricing a deck. If grading or leveling is needed, there will be a substantial increase in the finished product.
There are many factors that impact the construction time and costs. Here is what is considered when looking for pricing on a deck:
Material -

The cost of decking materials can vary based on the type and size of the material.

Deck Size -

Determining the size of your deck is a crucial step in the planning process. Knowing the dimensions will allow you to stay within your budget and ensure that there are enough materials for the construction.

Deck Design - The design of your deck is an important factor to consider. A more intricate design with features such as elaborate railings or built-in benches will cost more than a standard design. For example, a wraparound design typically costs 50% more than an average one.
Time of Year - When planning to install a deck, the time of year should also be considered. Weather-related factors such as rain or snow could make deck installation difficult depending on the location. Thus, careful planning is necessary to determine the best time to engage a deck building company.
Foundation - No matter the size of your deck, it is important that the foundation is strong enough to support its weight. If you plan to have heavy equipment such as an outdoor hot tub on your deck, consider using concrete footing systems that offer superior durability and stability compared to traditional methods. These systems are better equipped to withstand the extraordinary forces imposed by such heavy items.
Pergolas & Arbors
Pergolas and Arbors are a great addition to any deck, they introduce a whole extra dimension to your patio and help introduce plants and shade. Oberndorfer offers custom installations. Find more information anput them on our Pergola and Arbor installations page.
Complete the look of your new deck with any of these:
Selecting the ideal contractor for your new or current deck is a straightforward process with Oberndorfer Landscaping. Our team possesses extensive expertise and exceptional artistry, ensuring that you can swiftly relish a stunning outdoor area.
Frequently Asked Questions
What are the benefits of composite decking?
Composite decking offers several advantages over traditional wooden decking, including low maintenance needs, an extended lifespan, and eco-friendliness due to the use of recycled materials by many manufacturers. Furthermore, unlike wood decking, composite decking is easy to maintain and requires less upkeep since it does not need to be stained or sealed and can be cleaned effortlessly using soap and water.


Can composite decking be painted?
It can be, but it is not recommended. Due to its structure of it, it is very difficult to paint composite decking without it looking untidy and unprofessional. Over time, the paint will also chip, flake and fade when exposed to harsh elements.

Are composite decks slippery?
While composite decks are resilient to weather, certain brands can be extremely slippery when it is wet and cold out.

How long does composite decking last?
Composite decking requires minimal upkeep and can last between 25 and 30 years.
Let's Get Started
On Your New
Landscape Today!
Office Hours
Monday
8:00am
5:00pm
Tuesday
8:00am
5:00pm
Wednesday
8:00am
5:00pm
Thursday
8:00am
5:00pm
Friday
8:00am
5:00pm
Saturday
Closed
Sunday
Closed
262-512-9509
1000 W Bonniwell Rd
Mequon, WI 53097