Transform Your Outdoor Space with a New Composite Deck
Trusted Installer for Southeastern Wisconsin Homes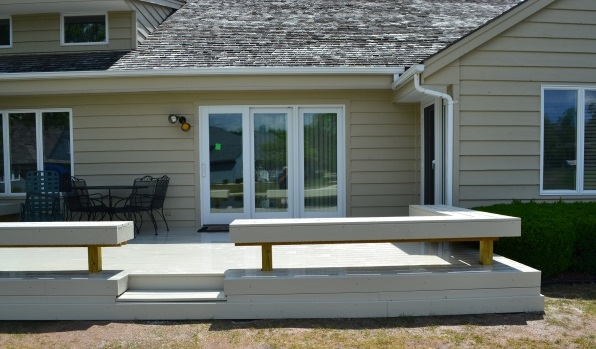 When you get tired of your old splintered, warped deck and you can't take another day of tip-toeing around exposed nails and unsightly rotting, call Oberndorfer Landscape Development. We install customized, maintenance-free composite decks to give your yard a beautiful seating, grilling and bar area and eliminate worries of warping, fading, rotting or pest infestations.

Get a Quote
View Gallery
Why choose Oberndorfer to install your composite deck?
Oberndorfer has been providing outstanding landscaping services to homeowners throughout Milwaukee and Milwaukee's suburbs since 2000. We value and listen to your input to get the job done right the first time. Our owner, Chris, takes a hands-on approach to make sure you're completely satisfied with your deck installation every step of the way, and you won't have to stress about coordinating with suppliers - we handle all the communications for you. When you work with Oberndorfer, you can expect responsiveness, a detailed proposal and polite, hard-working landscapers who will care for your yard as if it were their own. The Oberndorfer team shows up on time and installs your deck with attention to detail and precision.
What is the cost of composite deck installation?
The price of a composite deck is determined by the square footage of the finished product and the complexity of the finished design. In addition to materials, labor costs are the other major factor to consider when determining the cost of your composite deck installation. If grading or leveling is needed, there will be a substantial increase in the cost of the finished product.
Material

- The cost of composite decking materials can vary based on the type and size of the material you choose.
Deck Size - Determining the size of your deck is a crucial step in the planning process for your composite deck installation. Knowing the desired dimensions for your deck will help you to stay within your budget and order the right amount of materials for its construction.
Deck Design - The design of your composite deck is an important factor to consider. A more intricate design with features such as elaborate railings or built-in benches will cost more than a standard design. For example, a wraparound deck typically costs 50% more than an average deck design.
Time of Year - When planning to install a composite deck, consider the time of year. Weather-related factors such as rain or snow could make deck installation difficult. Careful planning is necessary to determine the best time of year to engage a deck building company.
Foundation - No matter the size of your deck, it is important the foundation is strong enough to support its weight. If you plan to have heavy equipment such as an outdoor hot tub on your deck, consider using concrete footing systems for increased durability and stability.
What are the benefits of composite decking?
Oberndorfer's composite decking offers the best of both worlds – the natural look of wood combined with the ease of maintenance. Our composite decks won't rot, warp or give you splinters, and, with composite decking, you won't need to spend hours re-staining your deck season after season. Unlike traditional wooden decks, our composite material doesn't require constant upkeep - just spray your deck off occasionally to make it look as fresh as the day it was installed. Choosing composite decking gives you creative freedom with a large selection of colors and styles.
We use the best decking materials available and ensure expert installation, making your composite deck tough enough to withstand Wisconsin's scorching summers, cold winters, spring rain and everything in between.
Call Oberndorfer Today to Get the Composite Deck You've Been Waiting For
Elevate your outdoor living space with Oberndorfer's hassle-free composite decking. Experience the beauty of a wood-like appearance without any of the downsides of wooden decks. Don't miss out on a stunning and perfectly-installed deck that transforms your space and endures the seasons for years to come. Contact Oberndorfer Landscape Development today to bring lasting charm to your home with our expertly installed composite decks. Your oasis awaits!
Let's Get Started
On Your New
Landscape Today!
Office Hours
Monday
8:00am
5:00pm
Tuesday
8:00am
5:00pm
Wednesday
8:00am
5:00pm
Thursday
8:00am
5:00pm
Friday
8:00am
5:00pm
Saturday
Closed
Sunday
Closed
262-512-9509
1000 W Bonniwell Rd
Mequon, WI 53097