Outdoor Lighting Installation in the Mequon Area
Incorporate Decorative Exterior Wall Lighting Fixtures into Your Landscaping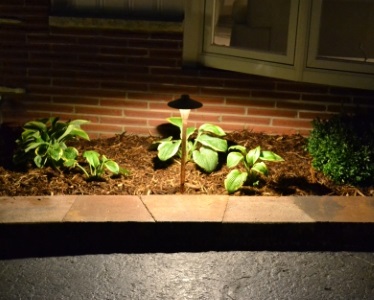 Mequon's top landscapers do more than make your home and yard look amazing in the sunlight—we illuminate your home's best features throughout the night as well with decorative outdoor lighting. Whether you're building a new deck with built-in lighting or want to add light fixtures to an existing feature, our outdoor lighting experts will plan and install a custom lighting design to match your landscaping and hardscaping.
Custom Outdoor Wall Lighting in Ozaukee County
Show off your garden or landscaping even after the sun goes down! Our outdoor lighting experts plan and install lamps, lanterns, strips, and other fixtures to improve both the aesthetics and safety of your yard from dusk to dawn.
Brighten your porch, patio, or deck for evening gatherings.
Add decorative uplighting to illuminate your flowerbeds and trees.
Highlight your walkway with outdoor lamps to keep the path safe at night.
Light up around the pool so the fun doesn't have to go down with the sun.
Illuminate a pergola or gazebo with welcoming lighting.
See some pictures of outdoor lighting projects in our gallery.

Get a Quote
View Gallery
Get an Estimate from Oberndorfer Outdoor Lighting Landscaping
Your yard is unique, and your outdoor lighting needs to match. Contact Oberndorfer, the best outdoor lighting company in Ozaukee County, for a quote. We design and install functional and ornamental lighting throughout Ozaukee County, including:
Let's Get Started
On Your New
Landscape Today!
Office Hours
Monday
8:00am
5:00pm
Tuesday
8:00am
5:00pm
Wednesday
8:00am
5:00pm
Thursday
8:00am
5:00pm
Friday
8:00am
5:00pm
Saturday
Closed
Sunday
Closed
262-512-9509
1000 W Bonniwell Rd
Mequon, WI 53097