Professional Landscaping and Erosion Control near Mequon
Long-term Erosion Control in Ozaukee County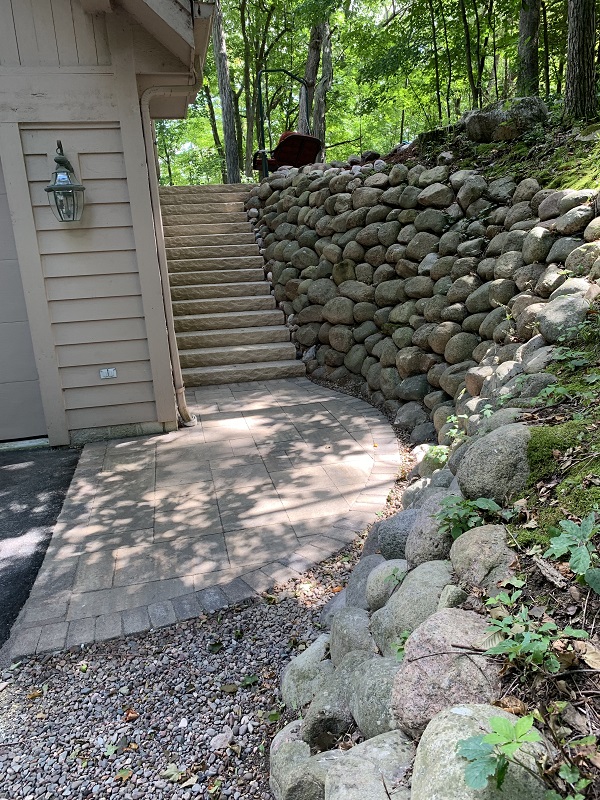 When snow melts rapidly or heavy rains descend on Southeast Wisconsin, excess water can cause major erosion in your yard. Nutrient-rich topsoil gets swept away from your plants, pesticides and fertilizers can wind up damaging water sources and the structure of your yard can wash away. Let the landscaping professionals at Oberndorfer install durable erosion control structures to protect your yard.
Our landscaping and hardscaping experts have experience designing, building and installing reliable erosion control structures throughout Mequon and surrounding yards in Ozaukee County. We assess the unique composition, structure and slope of your yard to determine the most effective erosion control.
Preserve and decorate your yard with long-term erosion control solutions from Oberndorfer.
Erosion control for small slopes:
Plants and Raingardens
Mulching, Bed Edging and Loose Stones
Erosion control for large slopes:
Retaining Walls
Walkways and Stairs
Contact our erosion control professionals to discuss an effective and striking solution for your yard today!

Get a Quote
View Gallery
Get Landscaping and Hardscaping Perfection from Oberndorfer
When you choose Oberndorfer, you get high-quality landscaping and hardscaping done perfectly and affordably. Our Mequon landscaping professionals ensure your installations are functional and attractive to help you make the most of your outdoor space.
We have nearly 20 years of experience designing and installing elegant additions to your yard, including: patios, water features, fire pits, lighting and more.
Our Ozaukee County landscape contractors are exact and efficient, always meeting safety requirements and completing your project within budget.
Erosion Control Cost Estimate
The price of erosion control is determined by the size of your yard and the severity of the slope you need to control. Erosion mat typically costs around 5 dollars per square foot plus labor
Let's Get Started
On Your New
Landscape Today!
Office Hours
Monday
8:00am
5:00pm
Tuesday
8:00am
5:00pm
Wednesday
8:00am
5:00pm
Thursday
8:00am
5:00pm
Friday
8:00am
5:00pm
Saturday
Closed
Sunday
Closed
262-512-9509
1000 W Bonniwell Rd
Mequon, WI 53097