Oberndorfer Landscape
Mequon Projects >> Landscaping
---

Professional Tree Service In Ozaukee County
Oberndorfer Landscape Development has years of experience providing tree care services in Ozaukee County. We work safely and provide top notch customer service, leaving your trees and lawn looking picture-perfect.
Planting trees and keeping them healthy really pays off in the long run as part of your property management plan. Oberndorfer Landscape Development is your resource in Southeastern Wisconsin for everything from tree planting to stump removal.
Complete Tree Care For Southeast Wisconsin
Tree pruning is an important aspect of regular tree care. It reduces the risk of damage from storms and strong winds, and provides an opportunity to spot early signs of insect problems, disease, or rot.
The experienced landscapers at Oberndorfer Landscape Development can properly trim any branches which are rubbing together, touching your roof, or getting too close to power lines. Tree pruning can also enhance the look of your trees, or improve your view out a window or from a deck while keeping the tree healthy and balanced.
If you spot a bad branch, splitting trunk, or any kind of tree damage, don't wait to call Oberndorfer. The next storm can take the problem from minor to major. Not sure if your tree can be repaired or if it has to be removed? We can assess it and let you know.
Support Systems (Cabling and Bracing)
Cabling and bracing provide support to trees in order to strengthen the overall structure. These methods can prolong the life of a beloved tree weakened by storm damage, disease, or rot. Bracing large branches or double trunks makes them less dangerous in windy weather or when covered in heavy ice and snow. Support systems allow you to keep your beautiful trees while protecting your home and surrounding area.
Cabling and bracing need to be inspected every couple of years, and it's especially important to keep up with regular pruning when a tree has a support system in place.
Tree Health
We can perform inspections to identify disease, insect infestation, or any other threat to the health of your trees. We can diagnose an individual tree or take an inventory of your entire property. Our tree specialists are trained to spot the early warning signs of pests or disease, and we can supply the necessary treatments to keep it from spreading.
Healthy trees look better, live longer, and make it through storms and harsh weather more easily. Oberndorfer Landscape Development also offers winter protection services for trees such as tree guards and mulching.
Landscape Fertilization
Our professional landscapers can determine the right kind of soil and fertilizer to help your trees grow optimally. We can diagnose improper soil conditions or root problems and recommend action. Call Oberndorfer Landscape Development for a tree health consultation and make sure your trees are getting good water drainage, proper aeration, and soil with the right nutrients for each species.
Tree Removal Service For Ozaukee County
If you have a tree with disease, severe rot, or other signs of becoming a safety hazard, Oberndorfer Landscape Development offers professional removal services. We prevent damage to your home and property by using only experienced tree removal technicians and the right equipment. We'll take all the debris with us when we go, and leave your lawn looking good as new. Stump removal service is also available, so if you want to make better use of the space on your lawn or you're just tired of looking at a stump, call us today.
Planting/Transplanting
Trees are a beautiful investment, making yards more comfortable and enhancing your property value. Tree roots stabilize the soil, helping reduce flooding, and a shady canopy lowers your energy bill in the summer. Our tree specialists will examine your property and recommend the best trees for your yard based on the climate, soil type, and layout. We can also transplant a tree to its ideal or desired location on your property.
Mequon's Professional Landscape Design Firm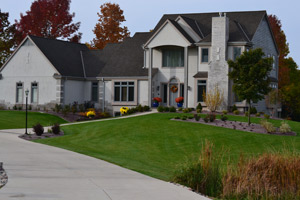 Some backyards start out ready for patios, pergolas and decks. Others require extensive landscaping before they reach this point. Oberndorfer Landscape Development takes care of everything from landscape design to installation and maintenance. Whether your current backyard is a forest, hill or open field, our professional landscapers will get the job done.
Utilizing our years of experience, we will transform your current yard, into the outdoor space of your dreams in no time at all. From winterizing your yard to keeping your trees, shrubs and plants green and healthy all year Oberndorfer Landscape Development is Mequon's premier landscaping company.
Landscape Design and Development
Removing a stand of trees and installing a flagstone patio with an outdoor kitchen is no problem for Oberndorfer Landscape Development. We can design a composite deck to fit any kind of backyard, no matter how hilly it may be. Flat, boring backyards are transformed into beautiful meeting places by our skilled landscape design and installation experts.
You do not have to invest hours taking care of your yard. Oberndorfer Landscape Development will maintain your landscape whether we installed it or not. We will keep your yard looking its best with superior service and attention to detail. When you're ready for the perfect yard, give the experts at Oberndorfer Landscape Development a call.
Average Cost Of Landscape Maintenance
Professional landscaping costs are determined by the size of the job and how many people it takes to complete. Material costs are also a major factor in the final price of your landscaping. Softscaping jobs such as planting trees, shrubs, and flowerbeds is less expensive than hardscaping projects that involve designing, planning, and building structures.
Premier Mequon Landscaping Professionals
Oberndorfer Landscape Development has grown to become a top choice among homeowners and commercial properties. For over 10 years our talented team of experienced landscapers have been creating beautiful landscapes, transforming yards into master pieces.
No matter what shape your backyard is currently in, our team of dedicated professionals will turn it into the envy of the neighborhood. We pride ourselves on building quality, working relationships with each client – consistently exceeding expectations. From completely developing a yard on a new construction home to giving your current landscaping a facelift, rely on the talented Oberndorfer team.
Contact the landscape design specialists at Oberndorfer Landscape Development to bring your landscaping ideas to life. We have transformed yards in Mequon, River Hills, Cedarburg, Grafton, Menomonee Falls, and beyond.
Let's Get Started
On Your New
Landscape Today!
Office Hours
Monday
8:00am
5:00pm
Tuesday
8:00am
5:00pm
Wednesday
8:00am
5:00pm
Thursday
8:00am
5:00pm
Friday
8:00am
5:00pm
Saturday
Closed
Sunday
Closed
262-512-9509
1000 W Bonniwell Rd
Mequon, WI 53097