Paver & Natural Stone Walkway Installation
Beautifully Designed & Installed Hardscape Walkways For Any Landscape
Oberndorfer's friendly professionals are eager to transform your property with a beautifully installed walkway. With function to style at the forefront of our efforts, we make sure every element from design to installation comes together perfectly to assure a long lasting hardscape solution.
Whether you're connecting your patio to the pool, adding a walkway around the side of your house, or developing an intricate pathway through your expanding garden; we have the experience and resources to deliver just what you had in mind.
When it comes to designing walkways for your landscape, the possibilities of creativity are almost unlimited. Our hardscape contractors will walk you through all of your options – including durable materials capable of withstanding the harsh weather in Wisconsin. Pavers are pre-formed concrete blocks made to simulate materials such as brick, tile, stone, and even chiseled stone. They lay flat and align with each other to form a smooth, even surface. Natural Stone has a more relaxed uneven shape that can create a very "one with nature" look. They are both extremely durable and easy to install, but natural stone may require future maintenance down the road due to the custom spacing in between stones.

Get a Quote
View Gallery
Find the best walkway style for you:
Mequon Hardscape Contractors Offer Impeccable Services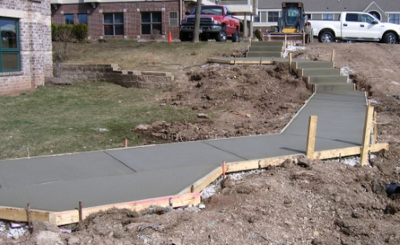 From start of your hardscape project to completion, our helpful staff will ensure all of your ideas are explored and the resulting outdoor space looks incredible. A walkway is the perfect way to tie your landscape features together or make accessing your home easier. Crisp, clean lawn edges can also help with clear path indication. Our knowledgeable staff will guide you through the entire process to ensure we are creating just what you envisioned and that you are receiving the highest quality service.
Stone Walkway Cost
The price of a custom walkway depends on the amount of labor and materials used. Longer walkways constructed of premium stone will imvolve more labor and material costs than shorter walkways where prefomed stone is used. Contact Oberndorfer for a quote on your walkway. We design & install custom walkways throughout Ozaukee County area, including:
Let's Get Started
On Your New
Landscape Today!
Office Hours
Monday
8:00am
5:00pm
Tuesday
8:00am
5:00pm
Wednesday
8:00am
5:00pm
Thursday
8:00am
5:00pm
Friday
8:00am
5:00pm
Saturday
Closed
Sunday
Closed
262-512-9509
1000 W Bonniwell Rd
Mequon, WI 53097