Water Feature Design and Installation
Mequon Projects >> Water Features
---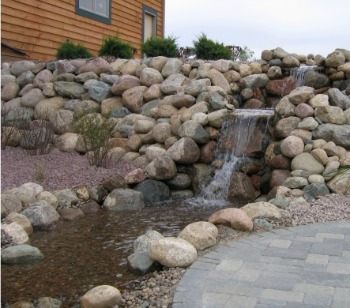 Backyard Ponds & Water Features Installed in Mequon
Waterfalls, streams and ponds are uniquely beautiful additions to any landscape. Whether you envision a waterfall cascading down your sloped yard, a stream winding through the woods or a reflecting pond for thoughtful moments, Oberndorfer Landscape Development's professional landscapers will design and install a water feature customized to your needs.
Ideas For Backyard Water Feature Designs
Relax to the sound of running water in your backyard paradise with a professionally designed and installed stream. Your flagstone patio serves as the perfect location to enjoy a lovely pond made to your specifications. Falling water is beautiful to watch and calming to hear. Enhance your landscape with a water feature designed, installed and maintained by Oberndorfer Landscape Development.
Backyard Ponds and Streams Create a Relaxing Retreat
Installing a stream creates a serene haven in your very own backyard. The relaxing sound of trickling water adds interest to any pond, waterfall, patio, lawn, or deck. Streams add natural beauty to your home. Oberndorfer Landscape Development's water feature designers will transform your home into an oasis of comfort.
Backyard Pond Designs Add Value to Any Home
Having a pond installed in your front or backyard adds charm and uniqueness, increasing the overall value of your home. They bring nature to your doorstep.
Maintenance is easy as they replenish with rain water. They also keep grass moist, giving life to plants and flowers lining their edges. Let our pond specialists make your home a water showcase.
Custom Outdoor Waterfalls Provide Peaceful Sounds
Our Wisconsin water feature design experts will build a paradise in your backyard. The sound of rushing water outside your home provides rustic serenity, creating a sanctuary where you can relax and unwind. Waterfalls are beneficial in keeping the water cycle going, inhibiting algae growth. See how Oberndorfer can transform a backyard into your own little slice of heaven.
Whether you incorporate a calming stream, a charming pond, or heavenly waterfall in your lawn design, let Oberndorfer Landscape Development build a retreat from your hectic life, which can be enjoyed for years to come.
Water Feature Cost
The material price of an outdoor water feature will be determined by the size, height and material of your preferred design. Plastic and resin are the most economic materials while concrete or marble command the highest price tag. Small features are considered less thatn 3 square feet, the medium size of a structure is up to 12 square feet and the largest, (and most expensive) options are 20 square feet or greater. Labor and material costs will be similear when pricing an outdoor water feature.
Oberndorfer Landscape Developement has designed and installed outdoor water features across Ozaukee County including Mequon, Cedarburg, Sussex, Menomonee Falls, River Hills & beyond. Contact water feature installation experts at Oberndorfer Landscape Development to schedule a consultation!
Let's Get Started
On Your New
Landscape Today!
Office Hours
Monday
8:00am
5:00pm
Tuesday
8:00am
5:00pm
Wednesday
8:00am
5:00pm
Thursday
8:00am
5:00pm
Friday
8:00am
5:00pm
Saturday
Closed
Sunday
Closed
262-512-9509
1000 W Bonniwell Rd
Mequon, WI 53097