Pond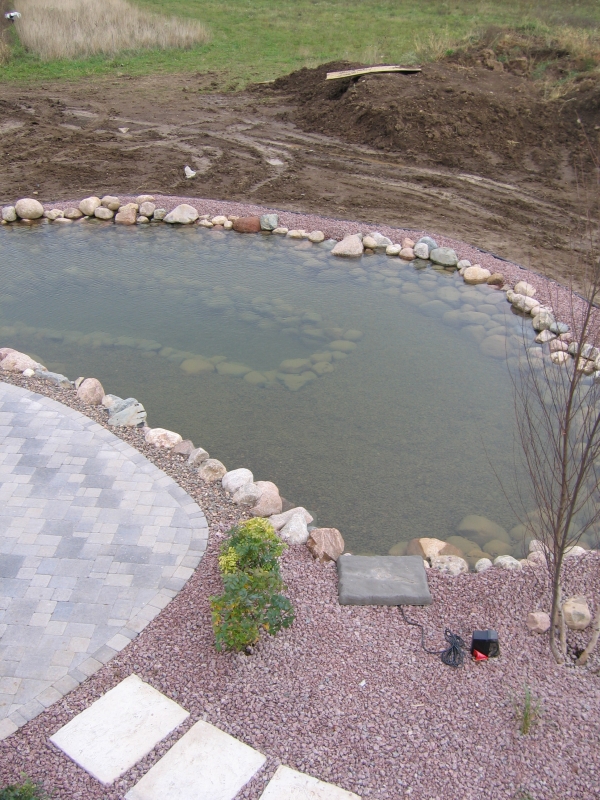 Newly Installed Pond the Focal Point of a Growing Backyard
This serene pond makes a great addition to this newly renovated Ozaukee County backyard. This pond has a very distinctive feature, the gradient of the water depth. Since this pond features two varying depths, it will soon become a perfect haven for fish and turtles.
Adding a water feature to your backyard can transform it into an outdoor getaway. By installing a pond with our experienced Ozaukee landscape contractors, you can turn your ordinary backyard into a soothing retreat. Relax and unwind without having to take a vacation! The natural stone surrounding this pond adds a rustic, natural setting which perfectly complements all 4 seasons we experience in southeastern Wisconsin. A unique water feature is easy to maintain and our landscapers will work with you to ensure your newly installed pond will be sustainable for years to come!
Contact the Ozaukee County landscapers for new water feature installation in Grafton, Menomonee Falls, Shorewood & more!
Let's Get Started
On Your New
Landscape Today!
Office Hours
Monday
8:00am
5:00pm
Tuesday
8:00am
5:00pm
Wednesday
8:00am
5:00pm
Thursday
8:00am
5:00pm
Friday
8:00am
5:00pm
Saturday
Closed
Sunday
Closed
262-512-9509
1000 W Bonniwell Rd
Mequon, WI 53097