Waterfall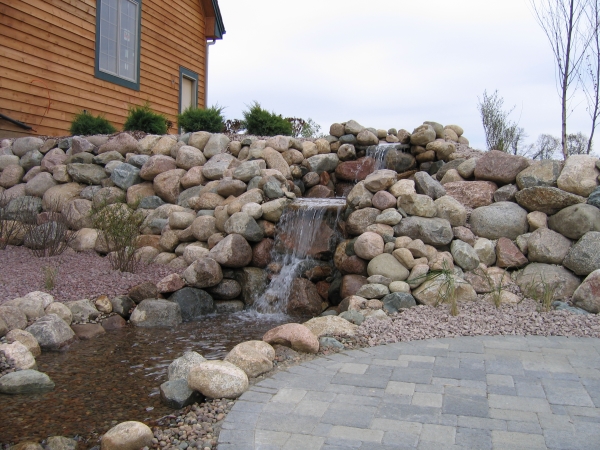 Tranquil Waterfall Installation Transforms Port Washington Backyard
The sound of flowing water has always been a comforting sound to humans. With a striking backyard waterfall, you can enjoy the relaxing sound of flowing water without ever having to leave Port Washington. Watching the water cascade over the natural stone banks, you will be able to lose yourself and unwind after a stressful day.
Installing a backyard waterfall will transform your backyard into a relaxing retreat. Friends and family will want to convene in your backyard, so they too can enjoy the sound of flowing water. Our landscapers want to ensure your backyard is a place you are happy to come home to and enjoy showing off to friends and family. By installing a waterfall, you give your yard added dimension, making the backyard spring to life. The benefits of having a waterfall include less buildup of pond algae, since the constantly moving water negates the algae's ability to form.
Contact the Mequon landscape contractors today to install a stunning new waterfall addition to your yard.
Let's Get Started
On Your New
Landscape Today!
Office Hours
Monday
8:00am
5:00pm
Tuesday
8:00am
5:00pm
Wednesday
8:00am
5:00pm
Thursday
8:00am
5:00pm
Friday
8:00am
5:00pm
Saturday
Closed
Sunday
Closed
262-512-9509
1000 W Bonniwell Rd
Mequon, WI 53097