Mequon Landscaping Company
Expert Landscaping Contractors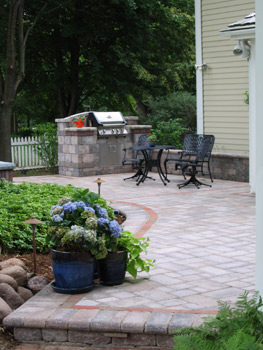 Oberndorfer Landscape Development has been providing expert landscaping services in Mequon since 2000. We are a family business. We began with only six full time employees. Our experienced landscapers are committed to exceeding expectations with custom landscapes catered to your needs. We understand the importance of an equally beautiful and functional outdoor living space. Oberndorfer Landscape Development will ensure your landscaping ideas are brought to life, making your yard the envy of the neighborhood.

Landscaping Employment Opportunities
Special career opportunities with Oberndorfer Landscape Development are available. Benefits of a career with Oberndorfer Landscape Development include working within a smaller family atmosphere and great training alongside a team orientated landscaping crew. We are looking for enthusiastic individuals who are dedicated to learning construction, maintenance, and horticulture aspects of the landscape industry.
We offer:
Competitive Wages
Bonuses
Paid Holidays
Paid Vacations
Contact the Mequon landscaping specialists from Oberndorfer Landscape Development for more information on our quality services or employment opportunities.
Oberndorfer Landscape Development is a Member of:

Wisconsin Landscape Contractors Association
Mequon Thiensville Chamber of Commerce

Authorized Contractor:




Authorized Contractor:

Tech Pro Certified Contractor:









Let's Get Started
On Your New
Landscape Today!
Office Hours
Monday
8:00am
5:00pm
Tuesday
8:00am
5:00pm
Wednesday
8:00am
5:00pm
Thursday
8:00am
5:00pm
Friday
8:00am
5:00pm
Saturday
Closed
Sunday
Closed
262-512-9509
1000 W Bonniwell Rd
Mequon, WI 53097