Outdoor Patio and Decorative Water Feature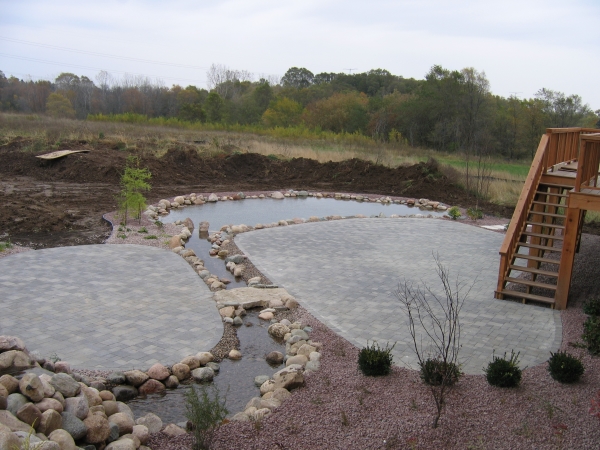 Pond and Stream Installation Creates a Calming Retreat from the Comfort of your Own Backyard
There is nothing more soothing after a long day than the sound of gently running water. This Mequon backyard stream opens into a small pond. A natural stepping stone creates a calming outdoor sanctuary. This one of a kind water feature creates a stunning focal point for this yard. By installing this pond and accompanying stream, this Mequon family's backyard has become a peaceful gathering place for friends and family.
There are many benefits of adding an outdoor water feature to your yard. Not only does it increase property value, it also keeps the ground moist. This is a huge benefit during hot summer days, because the plants surrounding the pond won't wilt or dry up due to heat. It can also collect any excess rainwater from your backyard. Ponds also cause interesting wildlife to migrate to your backyard. Frogs, dragonflies, turtles and colorful birds will all flock to your backyard pond, and you get to enjoy watching wildlife in their natural habitat.
Contact the Ozaukee County hardscaping experts at Oberndorfer Landscaping to install your patio & outdoor water features in River Hills, Whitefish Bay, Brown Deer, Cedarburg & beyond!
Let's Get Started
On Your New
Landscape Today!
Office Hours
Monday
8:00am
5:00pm
Tuesday
8:00am
5:00pm
Wednesday
8:00am
5:00pm
Thursday
8:00am
5:00pm
Friday
8:00am
5:00pm
Saturday
Closed
Sunday
Closed
262-512-9509
1000 W Bonniwell Rd
Mequon, WI 53097