Decks Installation
Mequon Projects >> Deck Installation
---
Mequon Landscaping Contractors Create Beautiful Composite Decks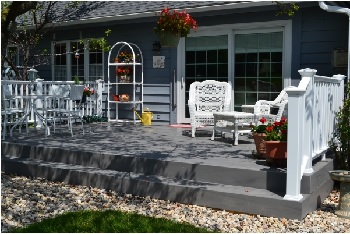 A custom-designed deck is a perfect solution to maximizing the functionality of your home and backyard. Create a special outdoor gathering area for your family and friends with the help of Mequon's professional landscaping contractors at Oberndorfer Landscape Development. From imagination to installation, we deliver. Anything is possible including built-in seating, stairs and enclosed storage space capabilities. Maximize your backyard with a beautiful composite deck custom built to fit your entertaining, dining and storage needs.
Oberndorfer Landscape Development has been creating the perfect decks for families since 2000. No matter what your current layout is, our staff of experts will bring your vision to life. Simply tell us what you're looking for, and we'll do all the heavy lifting. Create the new go-to gathering place for your friends and family this summer with a new deck installation.
Take advantage of your yard by adding a professionally crafted deck from Oberndorfer Landscape Development today. With our team of experts, you'll be taking advantage of your newly placed deck in no time.
Composite vs. Wood Decks in Southeast Wisconsin
Composite: The composite decks are made from a combination of wood and plastic, making them incredibly durable and resistant to Wisconsin's harsh winters and hot summers. These decks should be maintained about once or twice a year. You only need to hose down the deck with a power washer to maintain it. Composite decks can be manufactured with UV protective coating to resist against fading. They can also be manufactured in a variety of colors from natural looking browns to vibrant greens.
Wood: There are many types of wood decks depending on the material you want to use. Some of the wood deck materials include: pressure treated lumber, redwood, cedar, and tropical hardwoods. The most common wood decks in Wisconsin are pressure treated lumber. These are much less pricey than the others, and is resistant to rotting. They can also be painted in the color of your choosing. Cedar, redwood and tropical hardwoods are often utilized for their natural beauty. The natural wood decks typically resist warping better than pressure treated lumber.
Advantages of Custom Composite Decks
Oberndorfer Landscape Development's composite decks offer several benefits over wooden decks. Professional landscape quality composite decks are resistant to rotting and warping. You will never have to paint or stain a composite deck. Barefoot enthusiasts can walk on composite decks with no fear of splinters thanks to composite materials unique construction methods. The only maintenance a composite deck requires is the occasional hose-down followed by a soap and water rinse.
Custom Deck Installation Cost
The three factors that contribute to the cost of your deck installation are size, materials, design and labor. Decks with elevated foundations will always command a higher price than ground level foundations. The next factor to consider when pricing a deck is the design. Simple L-shaped designs are less involved to construct than wrap around or multi-level designs. Material factors also factor heavily into the final proce of a deck. Pressure treatred wood decks are less expensive to install and require less maintenance than composite decking.
Contact Mequon landscaping experts at Oberndorfer Landscape Development for a consultation on composite decks today! Our landscaping professionals have installed wood & composite decks across Southeast Wisconsin including Meqon, Cedarburg, River Hills, Menomonee Falls, Grafton, & Beyond!
Let's Get Started
On Your New
Landscape Today!
Office Hours
Monday
8:00am
5:00pm
Tuesday
8:00am
5:00pm
Wednesday
8:00am
5:00pm
Thursday
8:00am
5:00pm
Friday
8:00am
5:00pm
Saturday
Closed
Sunday
Closed
262-512-9509
1000 W Bonniwell Rd
Mequon, WI 53097