Paver Patio Design and Installation in Ozaukee County & Surrounding Areas
Patio Paver Contractor in Ozaukee County

It's time to bring your landscape up a notch. Most companies just pour some concrete and call it a day. At Oberndorfer, we offer a variety of unique, custom paver patio designs. Paver patios can be made from brick, stone, and even concrete. People with real style know that high end paver designs can boost home value by thousands. Show your home's worth with unique patio design ideas from Oberndorfer Landscape Development.
Our Mequon landscaping professionals work with you to design a patio matching your needs and style. We offer paver stones in a wide variety of colors, shapes and textures, from natural shades to vibrant hues. When properly installed by the professionals at Oberndorfer, paver patios are cost-effective, durable and require almost no maintenance.

Get a Quote
View Gallery
Custom Paver Patio Designs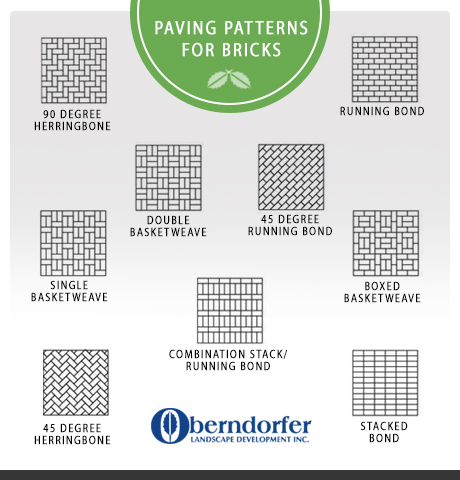 Paver patios have become one of the most popular backyard patiochoices.Quick & easy to install, these stunning backyard patios allow much room for creative freedom when designingyour patio. They can be used for large or small projects; can be made of concrete, brick, or stone; they come in a variety of colors and shapes; and can be laid in stunning patterns. If you're looking for a patio, custom designed to fit your yard and your lifestyle, paver patios are perfect for you. Our team at Oberndorfer Landscape will design and install your dream patio!
Some of the beautiful paving patterns we install for patios include:
90 Degree Herringbone
45 Degree Herringbone
Single Basketweave
Double Basketweave
Boxed Basketweave
Stacked Bond
Running Bond
Combination Stack/Running Bond
and more
You can customize your paver patio with the addition of special features, including:
Stairs
Fire pit
Raised garden
Retaining wall
Accent border
Built-in lighting
And more
Get High-Quality Results with Paver Installation Contractors
At Oberndorfer, we are dedicated to completing your custom paver patio design and installation within your timeframe and budget. We have years of experience crafting exceptional paver patios throughout Southeast Wisconsin. Our patio installation team completes all jobs efficiently—never sacrificing quality.
Additional landscaping & hardscaping services in Wisconsin include:
Paver Patio Installation Cost
The price of a custom patio is dependant on several factors including the paver material, size and style of project you choose. Low end clay brick pavers will cost less than $2 per square foot whereas premium pavers made from cobblestone or procelain can cost upwards of $20 per square foot. Larger patios will command a higher cost in both materials and labor. Contact Oberndorfer for a quote on your patio
Let's Get Started
On Your New
Landscape Today!
Office Hours
Monday
8:00am
5:00pm
Tuesday
8:00am
5:00pm
Wednesday
8:00am
5:00pm
Thursday
8:00am
5:00pm
Friday
8:00am
5:00pm
Saturday
Closed
Sunday
Closed
262-512-9509
1000 W Bonniwell Rd
Mequon, WI 53097