Brick Patio Hardscaping
Mequon Landscapers Install Beautiful, Long Lasting Brick Patios throughout Ozaukee County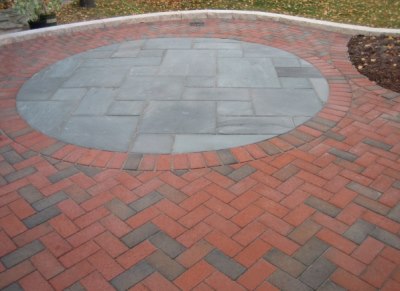 Brick has remained a popular patio choice among Wisconsin homeowners. Durable and attractive, bricks have withstood the test of time. A landscaped yard and professionally installed outdoor patio add extra useable space to your home and increase property values. The Oberndorfer landscaping team has years of experience installing brick patios throughout Ozaukee County at affordable prices. Update your outdoor space with a beautiful, low maintenance brick patio.
Why Choose A Brick Patio?
Bricks have been used as a building material for millennia. Durable, low maintenance and beautiful, brick is an excellent choice when designing an outdoor patio. There is an incredible selection of colors and styles available, including:
Red
Cream
Grey
Tan
Brown
Black
The wide color variation in brick is due to the amount of lime, sand color, temperature and duration of the firing process.
Our landscaping team uses only high quality bricks when installing patios. We will discuss with you which colors would best complement your home and existing landscaping, ensuring you're happy with the finished product.

Get a Quote
View Gallery
Popular Brick Patio Ideas
How much space you have available and what your budget is are deciding factors when choosing which pattern would be best for your patio. From the classic running bond style to decorative herringbone pattern variations, the Mequon patio installation professionals at Oberndorfer will lay the perfect patio for your backyard.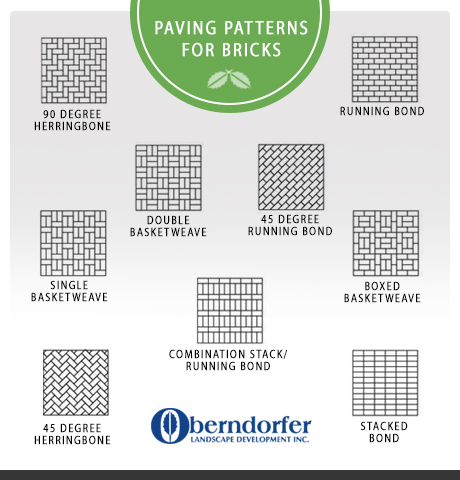 Setting Bricks: Sand vs Mortar
There are pros and cons to each option. Typically, Wisconsin homeowners choose sand over mortar. A sand-set patio tends to be more affordable, easier to repair and flexible – meaning it will not crack due to frost and snow. However, sand patios are more likely to shift over time, creating an uneven appearance.
A mortar set patio is not flexible like sand and tends to be a bit more expensive. This setting material will remain flat for a number of years, though, and it discourages ants and grass growth between the bricks. Our team has experience laying both sand and mortar brick patios, bringing your backyard designs to life.
Brick Patio Maintenance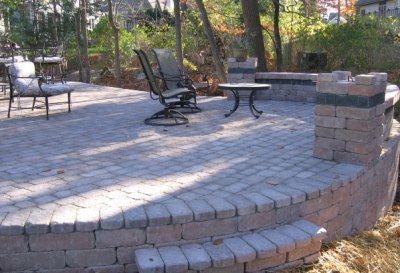 Brick requires very little maintenance, only the occasional power wash to remove any stains. If you notice weeds or moss creeping up between your bricks, simply pour boiling water directly onto the grass or weeds. If the moss is stubborn or if your patio is heavily shaded, simply use a mixture of diluted vinegar and a scrub brush to remove any plant life growing between your bricks.
How Much Do Brick Patios Cost?
Our landscaping professionals can design a patio for nearly any budget, but there are a number of things which determine the final price. The square footage, type of brick and paver style all affect the total cost. Our Mequon landscaping team is happy to provide a free quote, including an on-site inspection of the patio area. We work with you to determine the best type of hardscaping which complements your home and existing landscape design.
Let's Get Started
On Your New
Landscape Today!
Office Hours
Monday
8:00am
5:00pm
Tuesday
8:00am
5:00pm
Wednesday
8:00am
5:00pm
Thursday
8:00am
5:00pm
Friday
8:00am
5:00pm
Saturday
Closed
Sunday
Closed
262-512-9509
1000 W Bonniwell Rd
Mequon, WI 53097