Mequon Flower Planting Services
Landscape Design In Ozaukee County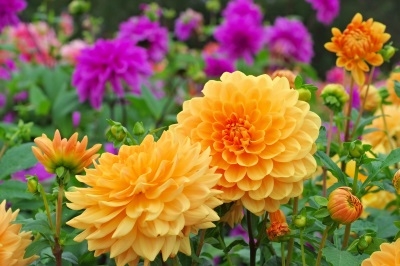 When it comes to a beautiful landscape or garden, knowing what you want is easy; properly choosing and planting flowers, however, can be difficult and dirty. The landscaping experts at Oberndorfer can turn your flower and plant dreams into reality. Helping you pick the best flowers for your garden – from color to season of bloom – we'll design a garden or plant bed adding life to your yard.
Enhance your garden and landscape even more, add lighting or a water feature! Our team of landscape designers and hardscape specialists make sure your property is everything you want it to be. Don't wait to start planning the backyard of your dreams, call Oberndorfer for a quote today!

Low Maintenance Plants For Landscaping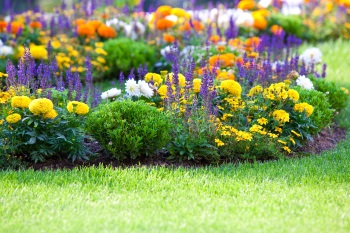 Your garden can be beautiful and colorful for a good portion of the year, with the proper planning. Our many landscaping professionals can set you up with a planting schedule that keeps your garden in bloom longer. Oberndorfer's professionals are experts at soil cultivation and bed preparation which can produce the best results from your seasonal planting.
Our flower bed work includes:
Fertilization and soil additions to annual and perennial beds (spring)
Annual plantings are done in a two week window around Memorial Day weekend
Cutting back of dead plants and removal of annuals (fall)
Perennial installation is done throughout the planting season
Get a Quote View Gallery

Cost Of Landscaping

Landscaping costs are determined by the size of your yard and the desired work. Planting a small flower bed yard in a backyard will be much less expesnive than designing an elaborate planter from scratch.

Other Services We Offer:

We offer a variety of lawn care services to assist with all of your gardening and landscaping needs, including bed edging, mulching, and more. Having the best looking yard on the block is easy when Oberndorfer is on the job!
Let's Get Started
On Your New
Landscape Today!
Office Hours
Monday
8:00am
5:00pm
Tuesday
8:00am
5:00pm
Wednesday
8:00am
5:00pm
Thursday
8:00am
5:00pm
Friday
8:00am
5:00pm
Saturday
Closed
Sunday
Closed
262-512-9509
1000 W Bonniwell Rd
Mequon, WI 53097