Fieldstone Patio with Brick Border and Fire Pit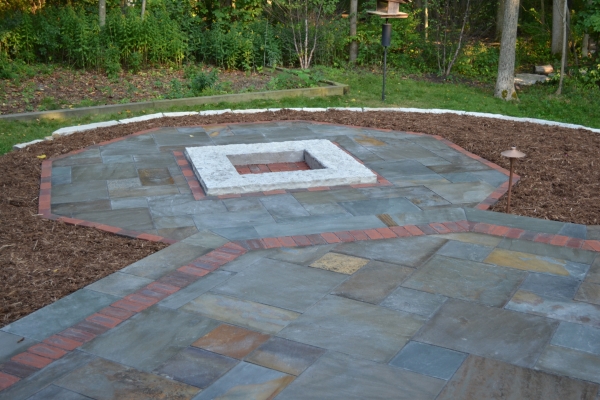 Mequon Landscapers Provide Attractive and Lasting Fieldstone Patio with Fire Pit
Our Ozaukee County landscaping contractors installed this fieldstone patio to create a space for the homeowner's family to gather. The client was looking to transform an empty space in their yard with a patio. The gray and dark red bricks beautifully complement the home and create an elegant and inviting atmosphere. Our Mequon landscapers customized the patio with a fire pit which is perfect for cozy get-togethers in all but the coldest months. The homeowners couldn't be happier with this fieldstone patio installation and look forward to entertaining guests over the years.
Patios, porches and walkways add a unique touch to any home and increase the resale value. Our Ozaukee County landscapers utilize many decades of experience in hardscaping to create beautiful outdoor spaces. We offer countless design options for almost every customer's unique taste and budget. You may customize your fieldstone patio with a fire pit, walkway, storage space or decorative wall. Whether you need a patio replacement or installation service, you can trust Oberndorfer Landscape Development.
Contact our Ozaukee County landscapers for the most affordable, high-quality fieldstone patio installation service in the state.
Let's Get Started
On Your New
Landscape Today!
Office Hours
Monday
8:00am
5:00pm
Tuesday
8:00am
5:00pm
Wednesday
8:00am
5:00pm
Thursday
8:00am
5:00pm
Friday
8:00am
5:00pm
Saturday
Closed
Sunday
Closed
262-512-9509
1000 W Bonniwell Rd
Mequon, WI 53097