Fieldstone Patio with Brick Border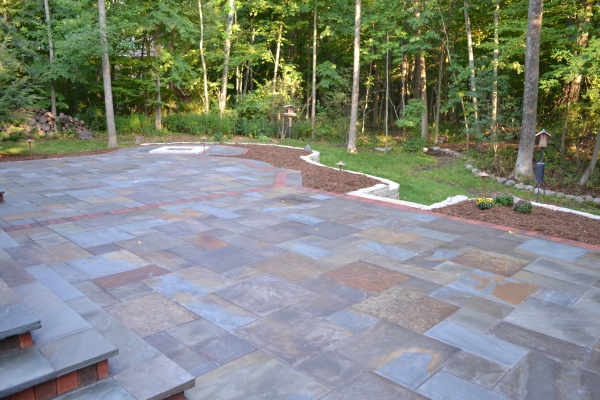 Mequon Landscapers Flawlessly Design and Install Fieldstone Patio
This Mequon fieldstone patio installation was completed by the talented professionals at Oberndorfer Landscape Development. These customers were looking for a classic patio design to fill the large empty space in their backyard. Our Mequon contractors installed gray stones bordered by brick red stones. The decorative curved stone wall separates the yard from the patio. The homeowners added beautiful furniture, which complements the patio while also serving as a gathering space. The hardscape is crafted with time-tested materials to withstand the extreme weather conditions so common in Wisconsin. The family is very happy with this fieldstone patio installation, feeling it perfectly matches the style of their home as well as their budget. They can count on this fieldstone patio to provide many years of family bonding time.
Oberndorfer Landscape Development is the preferred fieldstone and paver patio installation company in Wisconsin. For decades, our Mequon landscapers have installed and repaired patios. We offer numerous hardscape designs to complement your home's design and increase its resale value.
Contact our Mequon landscaping contractors for a custom fieldstone patio design and installation.
Let's Get Started
On Your New
Landscape Today!
Office Hours
Monday
8:00am
5:00pm
Tuesday
8:00am
5:00pm
Wednesday
8:00am
5:00pm
Thursday
8:00am
5:00pm
Friday
8:00am
5:00pm
Saturday
Closed
Sunday
Closed
262-512-9509
1000 W Bonniwell Rd
Mequon, WI 53097