Brick Patio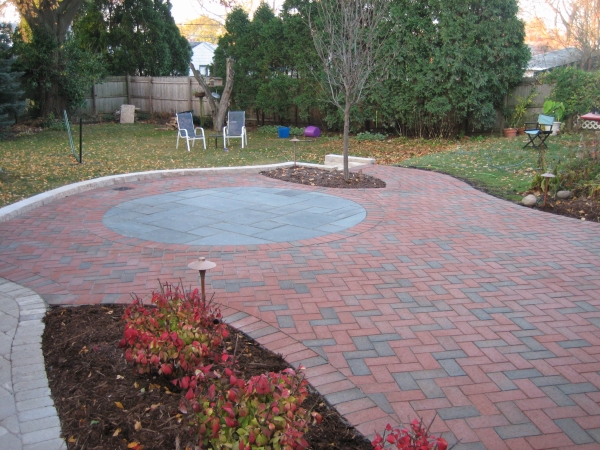 Mequon Patio Installation Defines and Beautifies Back Yard
Our Mequon landscapers installed this patio and walkway to add a sophisticated gathering place to this yard. These clients wanted to create a modern focal point which would add value to their home. After discussing the client's budget and design ideas, it was decided a red and grey color scheme would best complement the existing home décor.
The red bricks are bordered by gray bricks which form a graceful arc, tying the design together and defining the patio space. The gray circle shaped brick area adds an unexpected twist to the patio design, providing extra visual appeal. The homeowners also have two small landscaped gardens featuring trees and bushes, bordered by red and gray bricks. Our Mequon landscapers use only the highest quality landscaping bricks and tools, adhering to the highest quality standards. The patio resists damaging Wisconsin weather elements and other daily wear and tear, requiring little maintenance. The homeowners are glad they chose our team of Mequon landscapers for this patio installation. They feel this patio installation has boosted their home value and will use it for many backyard gatherings throughout the years.
Contact our Mequon landscaping contractors to discover the most attractive patio design based on your price range and yard size.
Let's Get Started
On Your New
Landscape Today!
Office Hours
Monday
8:00am
5:00pm
Tuesday
8:00am
5:00pm
Wednesday
8:00am
5:00pm
Thursday
8:00am
5:00pm
Friday
8:00am
5:00pm
Saturday
Closed
Sunday
Closed
262-512-9509
1000 W Bonniwell Rd
Mequon, WI 53097