Brick Patio and Fieldstone Walkway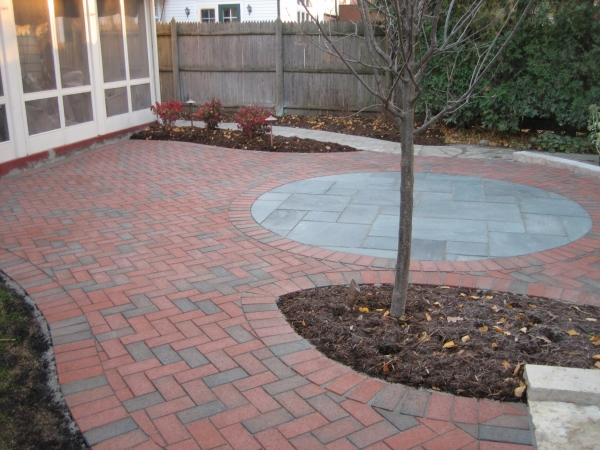 Cedarburg Landscapers Embellishes Backyard with Fieldstone Patio Installation
This Cedarburg client called Oberndorfer Landscape and Development looking to update their existing patio. The customer's previous patio had undergone damage from weather conditions and years of constant use. Our Cedarburg landscaping contractors meticulously designed and installed this gorgeous patio and walkway. Featuring contrasting red and grey bricks, this patio and walkway complements the current style of the home while sprucing up the backyard. The gray brick circular pattern in the middle adds a unique twist to the patio, customized to the homeowner's specific ideas and taste. The red bricks are bordered with gray bricks which curve out and separate the yard from the patio. The homeowners enjoy showing off their new patio with friends and family members. Oberndorfer's Cedarburg landscapers perfectly adhered to the customer's budget and time requirements, creating a beautiful new addition to their home.
Oberdorfer Landscape is one of the most prominent Cedarburg hardscaping companies. All of our patio and porch designs are attractive, durable and long-lasting, giving each customer the most for their money. When you're looking to update your yard and boost your home's value, contact our Cedarburg fieldstone patio installation specialists to discuss your options.
Contact our Cedarburg landscaping contractors for a durable and attractive fieldstone patio installation.
Let's Get Started
On Your New
Landscape Today!
Office Hours
Monday
8:00am
5:00pm
Tuesday
8:00am
5:00pm
Wednesday
8:00am
5:00pm
Thursday
8:00am
5:00pm
Friday
8:00am
5:00pm
Saturday
Closed
Sunday
Closed
262-512-9509
1000 W Bonniwell Rd
Mequon, WI 53097