Paver Patio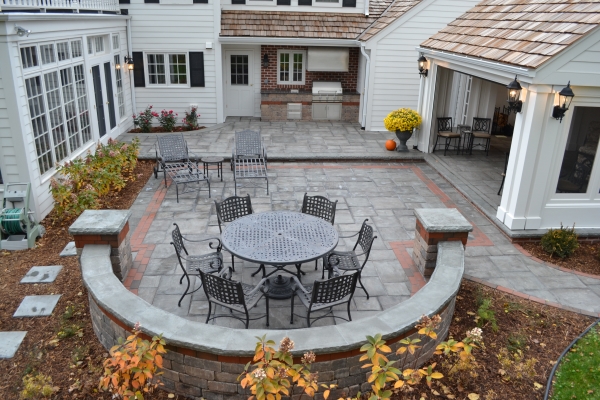 Mequon Paver Patio Installation Renovates Back Yards and Boosts Home Value
This photo showcases a gorgeous Mequon paver patio installation completed by Oberndorfer Landscape Development. Our professional landscaping contractors provided the homeowners with multiple patio options based on their price range and design preferences. We flawlessly installed this elegant paver patio featuring different sized grey flagstone with a contrasting red brick border. The curved stone wall separates the patio from the yard while visually tying the entire design together. The beautiful furniture complements the grey patio stones and provides a comfortable area for family bonding. Our Mequon landscapers utilized the finest quality materials and landscaping tools to create this durable, attractive paver patio. The patio will resist the roughest Wisconsin weather and look like new for many years after installation.
Oberndorfer Landscape Development performs the best flagstone patio installation services throughout Ozaukee County. Our landscapers bring decades of experienced to every job, making Oberndorfer the preferred hardscape company. Our paver patio installation and hardscape services are affordable to provide you the best quality for less. When you're looking for a cost-effective, uniquely designed paver patio, call Oberndorfer Landscape Development.
Contact our Mequon landscapers for a custom paver pation installation in Whitefish Bay, Shorewood, Menomonee Falls & more!
Let's Get Started
On Your New
Landscape Today!
Office Hours
Monday
8:00am
5:00pm
Tuesday
8:00am
5:00pm
Wednesday
8:00am
5:00pm
Thursday
8:00am
5:00pm
Friday
8:00am
5:00pm
Saturday
Closed
Sunday
Closed
262-512-9509
1000 W Bonniwell Rd
Mequon, WI 53097