Fieldstone Front Porch and Walkway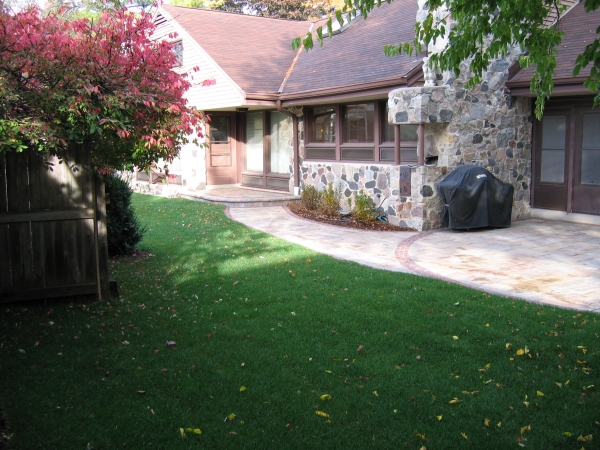 Mequon Fieldstone Porch Installation Creates a Warm and Inviting Atmosphere
These homeowners wanted to decorate the space from the driveway leading to their home and contacted us to discuss design options. Our Mequon landscapers perfectly designed and installed this gorgeous front porch and walkway. Featuring brown patterned stones, the porch matches the existing brown and cream colored bricks on the home, tying the whole design together. Our Mequon landscapers utilized aesthetically appealing, durable bricks when constructing this patio, providing a long-lasting foundation. This porch and walkway resist rain, snow, extreme temperatures, requiring minimal maintenance. The homeowners are glad they chose Oberndorfer Landscape and Development for their front porch and walkway installation in Mequon. Their home resale value has tremendously increased and their new walkway is the envy of the block.
Hardscaping projects are a great addition to any yard. Our Mequon landscaping contractors provide a variety of landscaping services, fitting every customer's price range and home style. We can customize a patio specific to your design tastes, incorporating a variety of elements. When you're looking for an attractive and affordable patio or porch design, call our Mequon landscapers today.
Contact our Mequon hardscaping professionals for a free inspection and quote on a fieldstone patio or porch.
Let's Get Started
On Your New
Landscape Today!
Office Hours
Monday
8:00am
5:00pm
Tuesday
8:00am
5:00pm
Wednesday
8:00am
5:00pm
Thursday
8:00am
5:00pm
Friday
8:00am
5:00pm
Saturday
Closed
Sunday
Closed
262-512-9509
1000 W Bonniwell Rd
Mequon, WI 53097