Fieldstone Front Porch and Walkway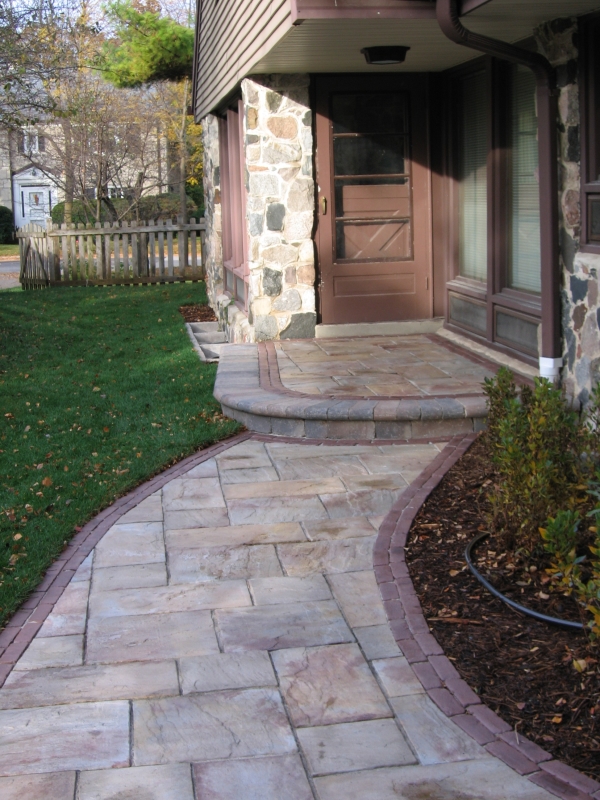 Mequon Landscapers Install Unique Stone Walkways
Our Mequon landscaping contractors designed and installed this stunning fieldstone porch and walkway. These homeowners wanted a stone porch to tie in with the exterior of their home and to create an inviting atmosphere. This matching fieldstone porch and walkway not only fit the aesthetics of the home, it also fit the homeowner's budget.
Hardscaping projects are a beautiful addition to any yard. Oberndorfer Landscape Development offers a multitude of stone and brick design options to complement any home. Walkways, retaining walls, patios and porches—we do it all. Our professional landscapers handle everything from design to installation. Whether you're looking to beautify your yard or want to create a special gathering space for friends and family, our experienced landscapers provide affordable, high-quality hardscaping services for every home and every budget.
Contact the Mequon landscapers of Oberndorfer Landscape Development for a free estimate on our fieldstone walkways and porches.
Let's Get Started
On Your New
Landscape Today!
Office Hours
Monday
8:00am
5:00pm
Tuesday
8:00am
5:00pm
Wednesday
8:00am
5:00pm
Thursday
8:00am
5:00pm
Friday
8:00am
5:00pm
Saturday
Closed
Sunday
Closed
262-512-9509
1000 W Bonniwell Rd
Mequon, WI 53097