Brick Paver Patio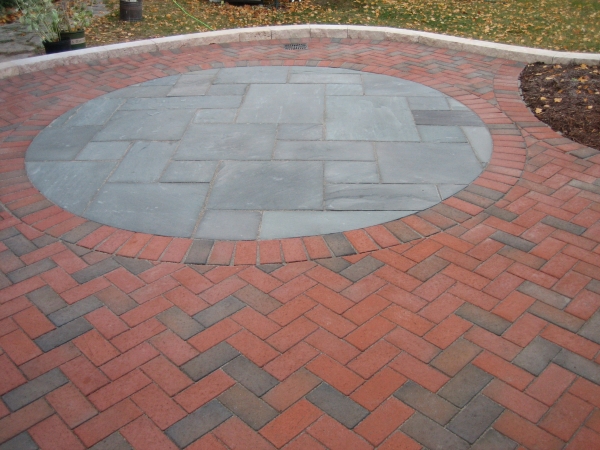 Ozaukee County Paver Patio Installation Serves as Bonding Space and Boosts Home's Value
This photo showcases part of an Ozaukee County brick paver patio installation. Our Ozaukee County landscaping contractors were called to replace the customer's patio for functional and aesthetic purposes. After discussing the client's budget and design ideas, we meticulously installed this red and gray brick patio. Using years of technical expertise and landscaping experience, our Ozaukee County landscapers exceeded the customer's expectations with our attention to detail and look of the finished patio. The red bricks nicely compliment the white painted home, providing a pleasing contrast. The patio has many circular and curved patterns which add an unexpected twist to the design. These bricks are installed and crafted with the strongest materials available to withstand rain, snow, UV rays, and other damaging elements. The homeowners can count on this paver patio to last through many years of family gatherings and neighborhood parties.
Oberndorfer Landscape and Development is the number one hardscape company in Ozaukee County. Our Ozaukee County landscapers have years of experience installing and repairing fieldstone patios and porches. Whether you have a small or large yard, we will give you a uniquely designed, affordable patio or porch. Our hardscape projects are strong, beautiful and low maintenance, requiring just an occasional hose down.
Contact our Ozaukee County landscapers for more information on our paver patio design and installation services.
Let's Get Started
On Your New
Landscape Today!
Office Hours
Monday
8:00am
5:00pm
Tuesday
8:00am
5:00pm
Wednesday
8:00am
5:00pm
Thursday
8:00am
5:00pm
Friday
8:00am
5:00pm
Saturday
Closed
Sunday
Closed
262-512-9509
1000 W Bonniwell Rd
Mequon, WI 53097