Outdoor Kitchen Area with Granite Countertop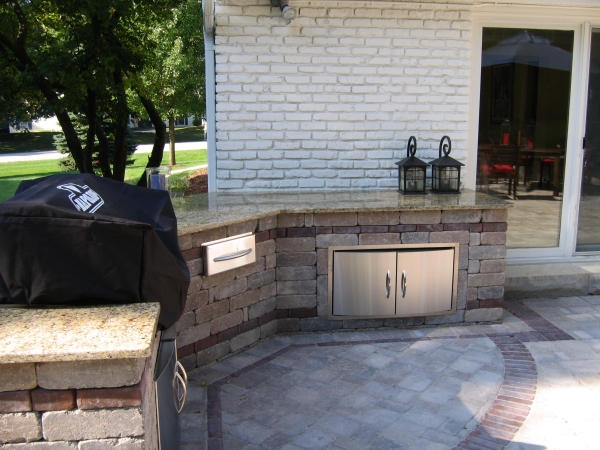 Mequon Landscapers Install Outdoor Kitchens
This striking, large outdoor kitchen installed in Mequon is sure to make this backyard the place to be during summer cookouts. A built in Napoleon gas grill and full cooking range, coupled with a food prep area will delight guests of all ages.
The stone of the outdoor kitchen perfectly complements the flagstone patio, creating a pleasing aesthetic effect. The stainless steel accents of the drawers and cabinets add a touch of modern style to the natural stone. Stainless steel is durable, waterproof, and will not rust. This makes stainless steel one of the best choices for outdoor kitchens in Wisconsin.
Installing an outdoor kitchen makes entertaining your guests easier. You no longer have to run from the kitchen back out to the patio. Instead you will be able to prepare, cook, and serve your meal without ever having to leave the conversation.
Since 2000, our professional Ozaukee County landscapers have been working to make our customers' visions come to life. We want your backyard to be a paradise you enjoy showing off to guests.
Let's Get Started
On Your New
Landscape Today!
Office Hours
Monday
8:00am
5:00pm
Tuesday
8:00am
5:00pm
Wednesday
8:00am
5:00pm
Thursday
8:00am
5:00pm
Friday
8:00am
5:00pm
Saturday
Closed
Sunday
Closed
262-512-9509
1000 W Bonniwell Rd
Mequon, WI 53097