Outdoor Kitchen Area with Granite Countertop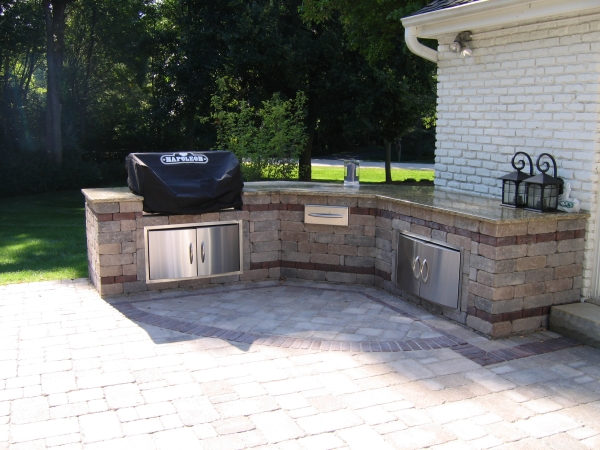 Large Granite Countertop adds an Extra Touch of Elegance to this Outdoor Kitchen
From this angle, it is easy to see what a difference granite countertops can make when installing an outdoor entertainment space. The beautifully installed outdoor patio already boosts the property value of this home and the granite countertops only add to it. Granite doesn't depreciate in value. Granite countertops are especially useful in an outdoor kitchen, because granite is sanitary. You don't have to worry about bacterial contamination. Not only will these countertops last the lifetime of your home, each slab is unique, which ensures your outdoor kitchen will be one of a kind!
Our experienced Mequon landscape contractors will go over the entire planning and budget process with you in an easy to understand way. We want to ensure you have the best installation experience, and pride ourselves on outstanding customer service. This Mequon backyard has been transformed from a little used feature of the home, to a constantly used gathering place for friends and family.
Contact the experts in outdoor kitchen design and installation at Oberndorfer today.
Let's Get Started
On Your New
Landscape Today!
Office Hours
Monday
8:00am
5:00pm
Tuesday
8:00am
5:00pm
Wednesday
8:00am
5:00pm
Thursday
8:00am
5:00pm
Friday
8:00am
5:00pm
Saturday
Closed
Sunday
Closed
262-512-9509
1000 W Bonniwell Rd
Mequon, WI 53097