Outdoor Kitchen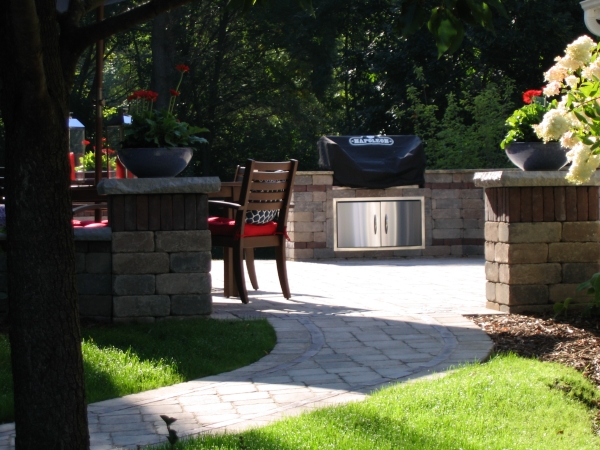 Experienced Cedarburg Landscapers Install Property Boosting Outdoor Kitchen
The centerpiece of this exceptional outdoor entertaining space is this newly installed kitchen in Cedarburg. At Oberndorfer Landscape Development, we take pride in all of our work, ensuring your outdoor kitchen enhances your backyard.
We use our years of landscaping experience to transform your dreams into a reality. The large built-in Napoleon grill, extra counter space and food prep surface is sure to wow guests at any gathering.
Durability is important for outdoor kitchens in Wisconsin. We can assure you our landscapers will give you a sturdy patio cooking area built to last for years to come. Oberndorfer Landscape Development uses high quality stone, which is low maintenance and doesn't require re-sealing or painting.
Your outdoor kitchen will last for years and weather the tough Wisconsin winters with no problem. Some of our clients have even reported using their new grill in the middle of the winter!
Contact our Cedarburg landscaping contractors to learn how we can enhance your outdoor patio with a kitchen.
Let's Get Started
On Your New
Landscape Today!
Office Hours
Monday
8:00am
5:00pm
Tuesday
8:00am
5:00pm
Wednesday
8:00am
5:00pm
Thursday
8:00am
5:00pm
Friday
8:00am
5:00pm
Saturday
Closed
Sunday
Closed
262-512-9509
1000 W Bonniwell Rd
Mequon, WI 53097