Paver Patio and raised Garden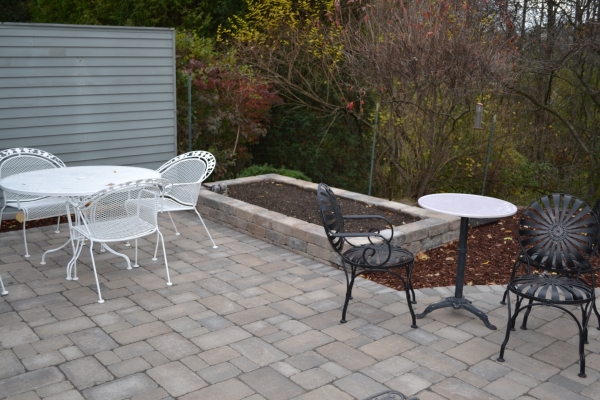 Mequon Landscapers Design Beautiful Paver Patio and Raised Garden
Oberndorfer Landscape Development designed and installed this paver patio with a raised garden area. The homeowners were looking to create a space in their back yard for relaxing and to do a little gardening in summer. Our Mequon landscapers used their expertise to build this lovely patio. The design features a neutral stone pattern which complements the grayish-blue siding of their home. These homeowners enjoy backyard barbeques and other gatherings on their new patio every summer. They also enjoy planting flowers and other greenery in the raised garden area.
Over the years, our Mequon landscapers have installed numerous paver and fieldstone patios for hundreds of satisfied clients. Like all the stone patios we install, this patio will resist harsh weather conditions and maintain its great look for many years to come. Unlike wooden decks, homeowners never have to deal with expensive repairs or messy maintenance. About all a stone patio requires is to be swept or hosed down occasionally to keep leaves and other debris off of it. Our Mequon hardscapers can create a custom designed paver patio for any home, including yours.
Contact our Mequon landscaping contractors for a custom design & installation for paver patios in Shorewood, River Hills & Whitefish Bay!
Let's Get Started
On Your New
Landscape Today!
Office Hours
Monday
8:00am
5:00pm
Tuesday
8:00am
5:00pm
Wednesday
8:00am
5:00pm
Thursday
8:00am
5:00pm
Friday
8:00am
5:00pm
Saturday
Closed
Sunday
Closed
262-512-9509
1000 W Bonniwell Rd
Mequon, WI 53097