Front walk, transition from existing front porch to new walk.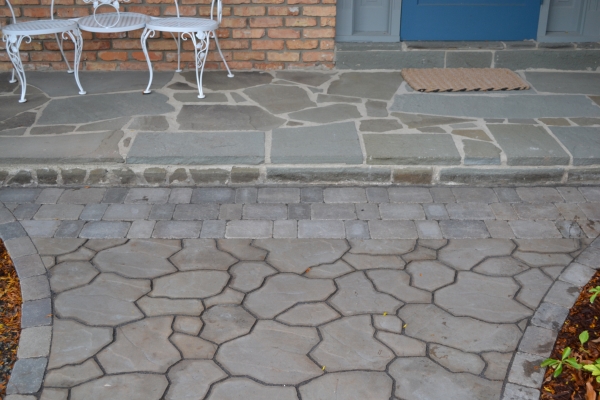 Mequon Front Walkway Designed With Unbeatable Creativity, Precision, and Industry Expertise
This photo showcases a Mequon front walkway and porch installation completed by Oberndorfer Landscape Development. The homeowner was looking for an affordable stone walkway installation to update his yard. Our Mequon landscaping contractors greatly enhanced the front yard with this elegant walkway. Featuring geometrically varied bricks, this front porch walkway adds an exquisite touch to the home to create a welcoming atmosphere. Our Mequon landscapers used state-of the art equipment and materials to construct this patio. The walkway resists bad weather conditions, rotting, and other damages guaranteeing this walkway will continue to look its best for many years to come. This new patio looks great and increases the home value.
Oberndorfer Landscape Development leads the hardscape industry in Mequon and surrounding areas. Our expert Mequon landscapers are trained in the latest industry methods and exceed customer expectations in terms of quality, price, and attention to detail. When you're looking to boost your home value with an elegant stone walkway, or are curious about the variety of landscaping services available, call our Mequon landscaping contractors for a free estimate.
Contact our Mequon hardscape specialists for a stone detailing porch, patio, or walkway.
Let's Get Started
On Your New
Landscape Today!
Office Hours
Monday
8:00am
5:00pm
Tuesday
8:00am
5:00pm
Wednesday
8:00am
5:00pm
Thursday
8:00am
5:00pm
Friday
8:00am
5:00pm
Saturday
Closed
Sunday
Closed
262-512-9509
1000 W Bonniwell Rd
Mequon, WI 53097