Lawn Seeding in Mequon
Grass Seeding Company In Ozaukee County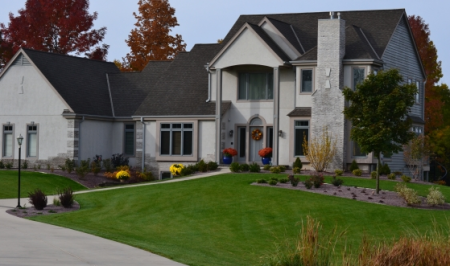 Properly seeding a lawn requires a degree of expertise few homeowners possess. Correctly reseeding your lawn means you must match your new seed to your existing turf, and even test the soil to find the right fertilizer.
Oberndorfer Landscape Development will match your existing turf and use the appropriate fertilizer for your lawn leaving you with a beautiful yard the following spring.
Seeding New or Existing Lawns
If your home was just built you might just have a few thousand square feet of dirt instead of a lawn. It may be appealing to lay sod and have an instantly green lawn, but sod is often more costly and less effective than seeding your lawn. Oberndorfer will till your lot, lay fertilizer, phosphorous, or other nutrients necessary for seeds to take root.
Even if you just have a few bare patches, the experts at Oberndorfer Landscape Development will have your lawn looking like new. We test the soil and find the appropriate seed to match your existing turf, ensuring a healthy lawn for years to come.
Grass Seed vs Sod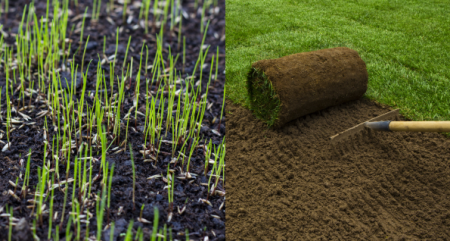 If your lawn has large patches of dirt, or is entirely dirt, professionally installing sod might be the best option. Sod is pre grown grass often cut into rolls and is best installed on your lawn by a professional.
Fall and spring are generally the best time to apply sod. Fresh, green sod can be rolled onto your property by a professional in as little as one day, leaving you with a beautiful green lawn. However, installing sod is significantly more expensive than seeding your lawn, and might struggle to take hold if your soil doesn't have the right nutrients.
Seeding your lawn is not only more cost effective, it allows you to match your existing yard. Over time, sod is less likely to take root than seeds. A properly seeded lawn will match your existing turf and grow in well, while sod might never match your original lawn. Oberndorfer only carries fresh seed carefully selected to thrive in the climate of southeast Wisconsin like:
Fine Fescue
Kentucky Bluegrass
Perennial Ryegrass
Seed can be applied by homeowners and professionals alike over bare patches or entire lawns. In the long run, seeding is the higher quality, cost effective option.
Grass Installation in Southeast Wisconsin
The professional landscapers at Oberndorfer will test your soil and match your existing turf to leave you with a beautiful lawn. Caring for your newly seeded lawn is simple. We will help you establish a simple routine of watering your seed 2 – 3 times per day.
Oberndorfer Landscape Development will take care of everything from testing the soil and finding the right species of grass seed for your lawn to providing proper installation to ensure your lawn will thrive for years to come. We will even sod and seed your lawn if you require both.
Lawn Seeding Cost
The cost of lawn seeding is determined by the size of your yard, the condition of your existing grass, and the variety of grass you choose. Bigger yards require more grass seed for effective coverage, which translated to a higher cost. The cost of lawn seeding will also increase if your lawn needs to be removed before beginning the reseeding process.
Let's Get Started
On Your New
Landscape Today!
Office Hours
Monday
8:00am
5:00pm
Tuesday
8:00am
5:00pm
Wednesday
8:00am
5:00pm
Thursday
8:00am
5:00pm
Friday
8:00am
5:00pm
Saturday
Closed
Sunday
Closed
262-512-9509
1000 W Bonniwell Rd
Mequon, WI 53097