Outdoor Kitchen Installation in Ozaukee County
Custom Outdoor Kitchens In Ozaukee County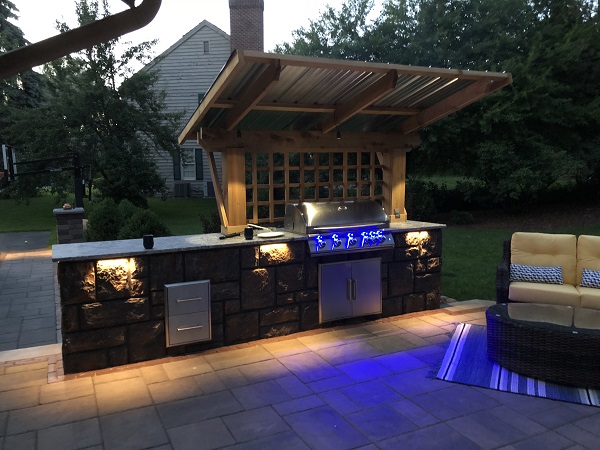 Spending time outdoors is a refreshing break from the bustle of everyday life. You've made your outdoor space peaceful, but may have trouble finding time to enjoy it amidst the plethora of household tasks you face each day.
Whether you crave more time outside, a more inclusive space to enjoy the company of family and friends, or simply want more space, installing an outdoor kitchen can be an excellent addition to your home.
At Oberndorfer, we make every step of the process as easy as possible. We assess your outdoor space, listen carefully to what your ideal outdoor kitchen entails, and work with you to design and install a beautiful and functional solution. Your completely customized outdoor kitchen will allow you to spend more time enjoying nature and the company of those you love for years to come.
Check out our outdoor kitchen gallery for inspiration!

Get a Quote
View Gallery
Benefits of Outdoor Kitchens
Outdoor kitchens are highly customizable, allowing you to create the perfect kitchen to enhance your lifestyle and outdoor space. Whether you want an L-shaped kitchen to make use of a small outdoor space, an outdoor kitchen with a grill or smoker, or an outdoor kitchen with a fire pit to allow use in all four Wisconsin seasons, our outdoor kitchen designers will create your dream kitchen. Our landscapers are experienced in the design and installation of outdoor kitchens in difficult spaces, including outdoor kitchens with pergolas and outdoor kitchens for decks.
In addition to being completely customizable, installing an outdoor kitchen gives you an abundance of benefits including:
Entertaining and family time are made easier: Whether you are entertaining guests or simply preparing a meal for your family, an outdoor kitchen allows you to interact with friends and family outside on a nice day while cooking. Instead of being confined to the house, you can enjoy outdoor festivities, carry on conversations, and observe backyard happenings while you cook. No walls also means it's easier for more people to congregate and enjoy each other's company.
Increased safety and decreased smells: Grills and smokers are popular ways to prepare food. Unfortunately, due to being fire hazards, they are usually not safe to use indoors. Outdoor kitchens with grills and smokers allow you to utilize these techniques in a safer environment. Additionally, preparing food outside abolishes smells that like to linger in indoor kitchens. Instead, you'll get to enjoy fresh air.
Outdoor kitchen installation increases your home's value: Outdoor kitchens are becoming increasingly popular. Installing an outdoor kitchen increases the value of your home, in addition to the aesthetic appeal and functionality of your outdoor space. Through customization, you can control how much value is added to your home by installing an outdoor kitchen with various features, including a sink, concrete or granite countertops, or a fire pit.
Outdoor kitchens can be enjoyed year round in Wisconsin: Cooking outside year round might sound like a stretch thanks to Wisconsin winters, but with the right features, you really can enjoy your outdoor kitchen all year. Oberndorfer's kitchen installation experts can outfit your outdoor kitchen with stainless steel, helping it endure the winter season. Creating a sink with a detachable garden hose protects your outdoor kitchen from freezing temperatures. Adding a fire pit keeps you warm while you cook. Looking for a more basic outdoor kitchen? You can still enjoy your outdoor kitchen in spring, summer, and fall.
Outdoor Kitchen Installation Cost Estimate
The price of an outdoor kitchen depends on the complexity of the design and the appliances you choose. Simple drop-in grills can cost a few hundred dollars whereas premium grills may cost several thousand. Another factor which affects the cost of our outdoor kitchen is the location. Perimeter kitchens require less labor to install and require less appliances. Satellite designs are the most expensive as the whole kitchen must be interconnected to your existing utility lines. Contact Oberndorfer for a quote on your outdoor kitchen design.
Let's Get Started
On Your New
Landscape Today!
Office Hours
Monday
8:00am
5:00pm
Tuesday
8:00am
5:00pm
Wednesday
8:00am
5:00pm
Thursday
8:00am
5:00pm
Friday
8:00am
5:00pm
Saturday
Closed
Sunday
Closed
262-512-9509
1000 W Bonniwell Rd
Mequon, WI 53097