Weed Control Service Mequon
Eliminate & Prevent Weeds with Professional Landscape Maintenance

Oberndorfer provides the best landscape maintenance service in Mequon and the surrounding areas; offering weed control and treatment to keep your yard weed free all year round. If weeds are left untreated they will spread quickly; leaving your grass and planting beds messy while stealing space and nutrients from the soil. Our landscapers will provide the level of weed care your property needs – from removing existing weeds by hand to using weed control products in prevention of future growth; we can visit weekly or monthly for weeding maintenance. Whether you have a residential or commercial property, you can trust Oberndorfer to prevent and eliminate weeds from your yard and garden.
Types of weeds can be broken down into two categories:
Annuals – Annual lawn weeds emerge in the spring, spread their seed for the next year of growth, and then die in the winter. Common annual weeds including crabgrass, foxtail, goose grass, chickweed, dog fennel, black medic, prostrate knotweed, prostrate spurge, corn speedwell, henbit, and purslane.
Perennial – Perennial lawn weeds also begin growth in spring and spread their seed throughout the year, but they do not die out; emerging again year after year. Common perennial weeds include dandelions, wild violets, quack grass, yellow nutsedge, tall fescue, wild garlic, creeping speedwell, cinquefoil, creeping Charlie, and clover.

Get a Quote
View Gallery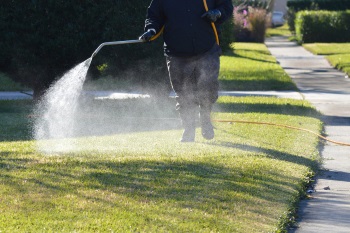 Whether you have a grassy weed or broadleaf weed problem will determine the best form of treatment. Grassy weeds are typically thin, long, leafy vines that grow vertically parallel to each other. Common grassy weeds are generally noticed after they've become a real problem and are not always easy to eradicate. Broadleaf weeds have a main vine with wide leaves and small wines branching off of it. While broadleaf weeds are not as difficult to get rid of as grassy weeds, they are best controlled when preventive measures are taken in early spring.
Oberndorfer Landscape Development has licensed and trained professionals who will identify your weed problem and create the best treatment plan.
Weed Control Cost
The cost of weed control depends on the size of your yard, chemicals required, and treatment method. The least expensive option for weed control is weed and feed which kills emergent weeds and fertilizes your grass. A mid-tier weed control solution is postemergence weed care which uses herbicides that kill weeds which have taken root in your yard. This method works best on weeds that are less than 4 inches in height. The most expensive solution is preemergence weed control. Herbicides are applied to your yard before weeds have a chamce to sprout. Preemergence herbicides are applied in early Spring or mid-Summer and requires a minimum of 1/2 inch of water to activate the chemicals.
Let's Get Started
On Your New
Landscape Today!
Office Hours
Monday
8:00am
5:00pm
Tuesday
8:00am
5:00pm
Wednesday
8:00am
5:00pm
Thursday
8:00am
5:00pm
Friday
8:00am
5:00pm
Saturday
Closed
Sunday
Closed
262-512-9509
1000 W Bonniwell Rd
Mequon, WI 53097