Landscape Bed Edging
Professional Landscape Edging in Ozaukee County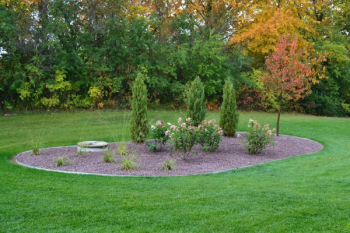 Proper edging can make or break a landscape. A crisp defined line separates landscaping features from the rest of your lawn. It draws a clear distinction to emphasize the beauty of your landscape.
Oberndorfer Landscape Development has a variety of edging styles to choose from. A simple plastic or aluminum edge along your flower bed creates a simple and elegant line, while raised stone pavers can create a bold focal point on your property.
Best Flower Bed Edging
Edging a garden involves more than putting a piece of plastic in the ground. The area around the garden must be trenched out and soil must be cut back. The trench must be tamped and filled with gravel before stone can be laid and the planter must be filled with topsoil.
Professional landscape edging from Oberndorfer will be diligently installed and filled by our team of experts. Landscape edging allows for a beautiful, clear line between your flowers and your yard. We eliminate the hassle of installation and leave you with an immaculately defined landscape.

Get a Quote
View Gallery
Lawn and Landscaping Services in Mequon,
Oberndorfer handles nearly all aspects of your landscape development. We work with you to provide a bespoke landscape for your property whether you want us to bring your dream landscape to life or start from scratch. Our landscapers will install mulch and carefully select flowers every year to ensure your newly edged planter stay beautiful and crisp every season.
Garden Edging Cost
The cost of garden edging varies based on the material you choose and the amount of area you wish to have edged. Plastic or polyurethane garden edging is a more cost-effective option than linestone, metal, or limestone. The average costs is .35 to $1.00 per square foot. Labor costs and taxes also determine the final price of your garden edging quote.
Our team of professional landscape contractors has enhanced the appearance of yards across Ozauke County including Mequon, River Hills, Cedarburg, Glendale, Menomonee Falls & beyond. Contact the landscape edging specialists at Oberndorfer Landscape Development for crisp, clean edges on your lawn.
Let's Get Started
On Your New
Landscape Today!
Office Hours
Monday
8:00am
5:00pm
Tuesday
8:00am
5:00pm
Wednesday
8:00am
5:00pm
Thursday
8:00am
5:00pm
Friday
8:00am
5:00pm
Saturday
Closed
Sunday
Closed
262-512-9509
1000 W Bonniwell Rd
Mequon, WI 53097