Brick Patio and Fieldstone Retaining Wall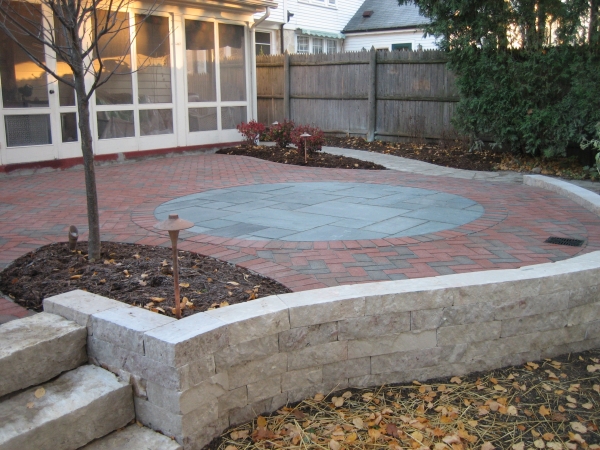 Mequon Fieldstone Patio Installation Adds Decorative Touch to Backyard
Our Mequon landscapers designed and installed this timeless fieldstone patio and retaining wall. These customers contacted Oberndorfer Landscape for a patio which matches their design tastes and price range. Our Mequon landscapers consulted with the homeowners before beginning work and determined this gray and red based design best fits the home style. This completed patio features red bricks bordered by a cream colored retaining wall, separating the patio from the yard and gardening area. The middle of the patio includes a gray brick circular pattern which is perfect for placing a table or barbeque grill. Our Mequon landscaping contractors used incredibly strong stones and materials to create this patio and wall. The bricks withstand weather, dust build up, rotting, and other every day wear, maintaining its quality and boosting the home's resale value.
Oberndorfer Landscape and Development is the leading hardscape developers in Cedarburg and surrounding cities. Our Cedarburg landscaping contractors install and design fieldstone patios customized with retaining walls, walkways, fire pits, and other details which complete your backyard. When you're looking to boost your home's value and create a beautiful backyard gathering space, contact our Mequon landscapers today.
Contact our Mequon landscapers for a gorgeous, lasting fieldstone patio or porch installation.
Let's Get Started
On Your New
Landscape Today!
Office Hours
Monday
8:00am
5:00pm
Tuesday
8:00am
5:00pm
Wednesday
8:00am
5:00pm
Thursday
8:00am
5:00pm
Friday
8:00am
5:00pm
Saturday
Closed
Sunday
Closed
262-512-9509
1000 W Bonniwell Rd
Mequon, WI 53097