Composite Deck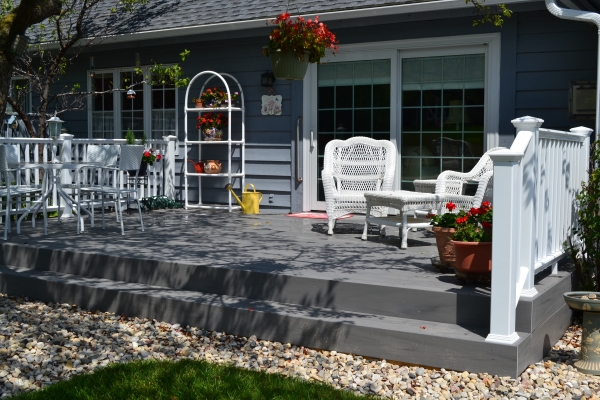 Ozaukee County Landscapers Install Custom Decks
These homeowners contacted our experienced Mequon landscapers to build a deck on their house without breaking the bank. They were looking to create an attractive and functional outdoor gathering space and were intrigued by the benefits of composite decking, but nervous about the costs. After meeting with our professional landscapers, who fully explained the pros and cons of composite and wood, they decided composite materials would be the best choice.
We worked with the homeowners to create a design which fit their budget and lifestyle. The custom composite deck we built is perfect for relaxing with a morning coffee and for having evening cookouts. The homeowners really enjoy having a spacious gathering space for grilling out with friends and family or entertaining guests. They also have tremendous peace of mind in knowing their deck will never be infested by carpenter ants or termites, and will never splinter or rot.
Oberndorfer Landscape Development has been providing composite deck installation services in Ozaukee County since 2000. Today's composite materials are more realistic looking than ever, exceptionally durable and will never leave splinters in your bare feet. Composite decks resist every day wear and tear better than wood and stay looking like new with only an occasional cleaning with soap and water.
Contact our Mequon landscapers for a free quote on composite deck installation today.
Let's Get Started
On Your New
Landscape Today!
Office Hours
Monday
8:00am
5:00pm
Tuesday
8:00am
5:00pm
Wednesday
8:00am
5:00pm
Thursday
8:00am
5:00pm
Friday
8:00am
5:00pm
Saturday
Closed
Sunday
Closed
262-512-9509
1000 W Bonniwell Rd
Mequon, WI 53097