Composite Deck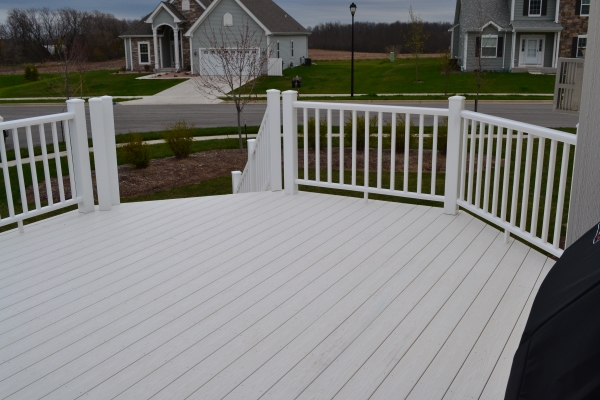 Cedarburg Composite Deck Professionally Installed
This homeowner wanted a deck to make their home stand out, giving them an outdoor space to enjoy when they had company over. They wanted a deck which wouldn't require a lot of maintenance, wouldn't splinter or rot, and had a long lifespan. We showed them the advantages of having a composite deck installation. With a specific design in mind, our staff at Oberndorfer Landscape Development got to work, creating the perfect deck for this home.
Once the homeowners saw the completed project, they were simply blown away. It was clean, perfectly crafted, and built from a material which needs little maintenance and would last for years. The family couldn't wait to call up their friends and family to come over to their Cedarburg home and look at their newly installed composite deck.
When you're ready to take full advantage of your yard, call the Cedarburg landscaping specialists today. From decks and patios to water features and outdoor kitchens, our team completes it all.
Contact the Ozaukee County landscaping experts of Oberndorfer Landscape Development to get an estimate on your own composite deck today.
Let's Get Started
On Your New
Landscape Today!
Office Hours
Monday
8:00am
5:00pm
Tuesday
8:00am
5:00pm
Wednesday
8:00am
5:00pm
Thursday
8:00am
5:00pm
Friday
8:00am
5:00pm
Saturday
Closed
Sunday
Closed
262-512-9509
1000 W Bonniwell Rd
Mequon, WI 53097