Maintaining Lawns and Landscapes in Mequon
Professional Landscape Management
Oberndorfer Landscape Development provides high quality lawn and landscape maintenance services throughout Southeastern Wisconsin. Our highly qualified staff works tirelessly to make every aspect of your property immaculate. We perform every step from complete lawn care to tree and shrub treatments to pruning and trimming services.
Oberdorfer's professional yard and landscape maintenance services include:
Contact experienced Mequon landscapers from Oberndorfer Landscape Development for professional yard maintenance services.

Get a Quote
View Gallery
Southeastern Wisconsin Lawn Care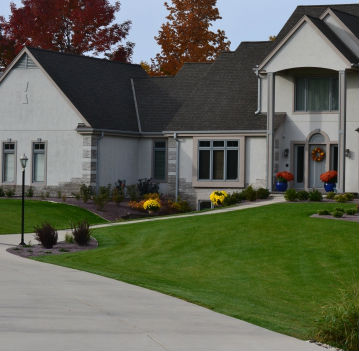 Oberndorfer Landscape Development offers comprehensive lawn care in Ozaukee County year round.
Proper lawn care is important to keep unwanted weeds and crab grass from invading your yard, and also keeps your current grass thick and green.
Our lawn care services in Mequon and surrounding areas include:
Wisconsin lawn care gets tricky, and there are many factors to keep in mind.
Let Oberndorfer Landscape Development take care of all your lawn needs. We ensure your lawn is in prime condition.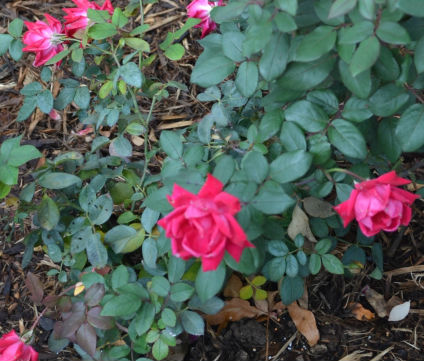 Bed edging has many benefits for your overall landscaping. It virtually eliminates the need to constantly reshape the bed, and ensures crisp, clean lines. Edging your lawn also gives your beds an added touch of sophistication, with a wide variety of edging styles available.
Our re-mulching and bed re-edging services include:
Freshening up your existing landscape beds with a fresh shovel edge and adding more shredded bark
Creation of beds around trees and shrubs with shredded bark
Aside from the visual benefits, edging will also save you money on landscaping services in the future. After our edging services, your bed perimeter will not need to be continually spaded by hand, saving you time and money.
Our flower bed work includes:
Soil additions to annual and perennial beds (spring)
Annual plantings are done in a two week window around Memorial Day weekend
Cutting back of dead plants and removal of annuals (fall)
Perennial installation is done throughout the planting season
Some of the most impressive flower displays come from annual flowers. Planting annuals gives you the opportunity to change up the look of your garden every spring. Annual plants require a lot of work to plant and properly arrange in your gardens. Our team of Mequon landscaping experts will take care of annual flower planting, arrangement and cultivation, ensuring your garden is bright and colorful all summer long.

Get a Quote
View Gallery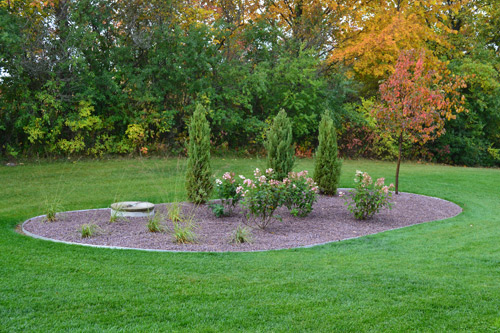 Trees and shrubs add an incredible amount of value to your home. Keep them healthy and looking great with Oberndorfer Landscape Development. We handle all of your Wisconsin tree care needs, disease prevention, pruning and winter preparation.
Our Ozaukee County shrub and tree care services include:
Shrub shearing and pruning done twice a year
Tree pruning, thinning, and removal (Best for tree's health if done in the winter or early spring)
Stump removal and repair
Creating mulch rings around trees in order to protect them from lawn mower and trimmer damage
Proper tree care is essential for preventing diseases like root rot and cankers. Our experienced team of tree care experts will prune your trees accordingly, depending on the species of tree we are treating.
Improper tree pruning can lead to irreparable damage, and can leave them exposed and more susceptible to disease. Our professional Mequon landscapers know the proper techniques for pruning trees so they don't suffer from branch breakage.
Winter preparation is an important part of keeping your trees and shrubs healthy through harsh weather conditions. Oberndorfer's professional landscapers properly prune and mulch your trees and shrubs, so they don't get damaged by the bitter Wisconsin cold.
Many people neglect their fully grown trees, assuming they are ready for the winter. However, to retain moisture in the soil and to guarantee your trees have healthy blooms come spring, it is important to lay some mulch around the base of your trees and shrubs. This acts as a blanket for the tree roots, shielding them from the cold.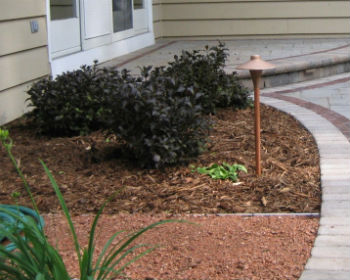 Oberndorfer Landscape Development will work with you to choose the best mulch for your yard. We install a wide variety of mulches for landscaping in Mequon and surrounding areas throughout Ozaukee County and Southeastern Wisconsin.
There are many different colors and wood types available to suit your home's décor including:
Red
Brown
Black
Hemlock
Oak
Pine
White Cedar
Some of these woodchips can be coarse or shredded depending on the tree type and your personal preference.
Mulch is ideal for home playgrounds, gardens, flower beds, and around trees.
Let's Get Started
On Your New
Landscape Today!
Office Hours
Monday
8:00am
5:00pm
Tuesday
8:00am
5:00pm
Wednesday
8:00am
5:00pm
Thursday
8:00am
5:00pm
Friday
8:00am
5:00pm
Saturday
Closed
Sunday
Closed
262-512-9509
1000 W Bonniwell Rd
Mequon, WI 53097