Outdoor Water Feature Installation

Backyard Water Features will Impress the Neighbors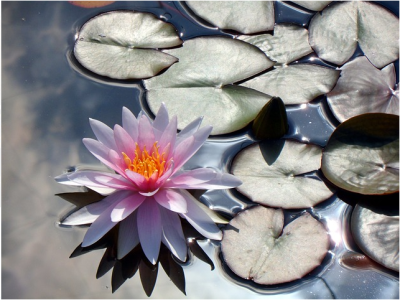 Imagine going out onto your backyard patio. It's a Saturday morning in New Berlin. The warm sunlight shines down on you as you sit in your chair drinking your coffee. You stare at the natural landscape, soaking in the morning bliss expertly crafted in front of you. A small waterfall flows from the garden into a peaceful reflection pond teaming with fish. Delicate, smooth rocks border the pond. Adorning some of these rocks are little stone turtles for decoration.
At the pond center is a fountain statue. This scene, along with chirping of nearby birds and the peaceful flow of water set the stage for something beautiful. A perfect morning.
This wonderful morning scene doesn't have to be in a gardening catalog or just a figment of your imagination. Create your own backyard Eden with the help of our New Berlin landscaping professionals.
The natural beauty of your yard is in your hands and it can be molded into perfection. All you need is the right landscaper.
Contractors with an Eye for Landscape Beauty
With Oberndorfer Landscape Development, you can make this vision of the perfect morning scene a reality. Oberndorfer specializes in designing and installing water features such as ponds or waterfalls. The focus of our landscape designs are natural beauty and functionality, adding dimension to your yard.
Any part of your backyard is open for creation or modification to suit your landscaping tastes. We can install a flagstone patio for you to sit at while overlooking your constructed pond and water design. If you do want a garden added to the look, we can install just the right greenery to contribute to the scenery.
The Landscape Contractors You Need
Your backyard is a canvas, you're the painter and Oberndorfer is the brush. The only thing left to do is contact our design contractors and start painting!
This dream of a perfect morning can be yours. Going outside on a midsummer morning and sitting on a custom flagstone patio while looking at your very own reflective pond and waterfall is within your grasp. All you have to do is reach out to our friendly, outdoor contractors and make it possible.
For a nice ambient night touch, have Oberndorfer install outdoor lighting! This extra addition will give your backyard pond and garden a magical, luminous quality which can only be appreciated under the moon and starlit sky.
Make your backyard dreams a reality with the New Berlin landscaping contractors from Oberndorfer Landscape Development today.
Let's Get Started
On Your New
Landscape Today!
Office Hours
Monday
8:00am
5:00pm
Tuesday
8:00am
5:00pm
Wednesday
8:00am
5:00pm
Thursday
8:00am
5:00pm
Friday
8:00am
5:00pm
Saturday
Closed
Sunday
Closed
262-512-9509
1000 W Bonniwell Rd
Mequon, WI 53097