Patio, Outdoor Kitchen, Sun Porch addition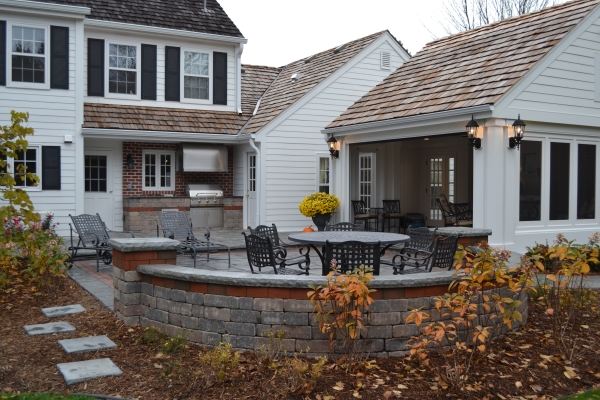 Ozaukee County Sun Porch Installation Adds Outdoor Recreational Area
Our Ozaukee County landscapers designed and installed this sun porch complete with an outdoor kitchen. The homeowners were looking to create a unique, elegant space for entertaining friends and family. This completed sun porch design features grey based bricks and stylish black furniture which complements the existing home design. The matching curved stone wall includes complementing grey bricks with a pop of red for a pleasing contrast.
The wall partitions the patio from the yard while also providing a seating area for guests. The outdoor kitchen area allows homeowners to conveniently cook and prepare food for backyard barbeques and parties. Our Ozaukee County landscapers utilized the best materials, while focusing the details when installing this stunning sun porch. The bricks resist rotting and harsh Wisconsin weather conditions to maintain the porch's aesthetics. The homeowners will get years of use from their new patio while boosting their home resale value.
Contact our Ozaukee County landscaping contractors for an estimate on a sun porch installation or any other hardscape project.
Let's Get Started
On Your New
Landscape Today!
Office Hours
Monday
8:00am
5:00pm
Tuesday
8:00am
5:00pm
Wednesday
8:00am
5:00pm
Thursday
8:00am
5:00pm
Friday
8:00am
5:00pm
Saturday
Closed
Sunday
Closed
262-512-9509
1000 W Bonniwell Rd
Mequon, WI 53097