Custom Water Feature Installation for Your Ozaukee County Home
Low Maintenance Water Feature Installation Increase Aesthetics and Peace in Your Yard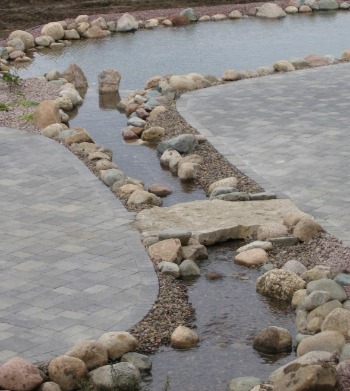 Your backyard should be aesthetically pleasing and peaceful, a getaway from everyday stressors. Whether you enjoy reading or entertaining on a deck or patio, strolling a walkway or garden, or enjoying an outdoor fire pit, the serenity of your backyard could be further enhanced by the addition of a custom water feature. Whether you long for the calming cadence of flowing water or the living art of water gardens, the water feature installation experts at Oberndorfer work with you to create your perfect outdoor haven.

We design, customize, and install the following types of water features:
Backyard Pond Installation
If you are looking for a way to integrate a water garden into your backyard, our water feature installation professionals can install the perfect pond. Watch exquisite flowers and grasses flourish in the clear water of your new pond while the property value of your home soars. Our peaceful ponds are designed to meet the size and shape specifications of your yard and can be customized to various depths to support wildlife such as fish, turtles, and frogs. Looking for a more kid friendly option? Our backyard pond experts also design and install shallow reflecting ponds safe for homes with children.
Backyard Stream Installation
Let flowing water fill your backyard with soothing sounds with a stream installed by Oberndorfer. Our beautiful streams replenish with rain water and create gentle movement to prevent algae growth, requiring virtually no maintenance. Whether you envision your stream enhancing a patio area, featuring a natural walkway, or leading guests to the serenity of a pond or waterfall, our water feature installation professionals craft the perfect stream to complement your yard.
Backyard Waterfall Installation
Add a point of intrigue to your backyard with a waterfall designed and installed by our water feature experts. Whether your waterfall cascades into a pond, stream, or adorns natural stone banks, hear the calming sound of water in your own backyard. Revel in the low maintenance of your waterfall as it replenishes with rain water and inhibits algae growth, giving you more time to relax.
Select one type of water feature to perfect your backyard or combine them for multiple levels of beauty. For more inspiration, check out our water feature gallery!
Water Feature Installation Made Easy with Oberndorfer
Adding a water feature to your backyard is a dream for many—and a big decision. At Oberndorfer, we make the process as easy as possible. From assessing the landscape of your yard to designing the best water feature that matches your dreams and your lifestyle, we work with you to provide a beautiful and functional addition to your outdoor space. You will enjoy the peace of your custom water feature for many years.
Let's Get Started
On Your New
Landscape Today!
Office Hours
Monday
8:00am
5:00pm
Tuesday
8:00am
5:00pm
Wednesday
8:00am
5:00pm
Thursday
8:00am
5:00pm
Friday
8:00am
5:00pm
Saturday
Closed
Sunday
Closed
262-512-9509
1000 W Bonniwell Rd
Mequon, WI 53097