Outdoor Kitchens and Grills for Endless Summer Fun

Host Backyard Cookouts All Summer Long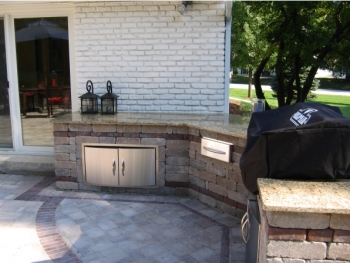 As the weather begins to warm up, thoughts quickly turn to backyard BBQs and relaxing nights on the patio. Why not give your indoor kitchen a break by taking your cooking skills outside with a high quality, professionally designed and installed outdoor kitchen from the Brookfield landscaping professionals at Oberndorfer Landscape Development.
Outdoor kitchens can range from a simple grill setup to a complete kitchen installation complete with a grill, stove, expansive granite countertops and a vent hood. No matter what your vision is for an outdoor kitchen, we can bring those dreams to life.
Your brick patio will be the new gathering place for friends and family all summer.
Brookfield Landscaping Contractors Design the Perfect Outdoor Kitchen
Every yard is different and so is every outdoor kitchen. Our Brookfield professional landscapers work with you to design and install your ideal outdoor kitchen, perfectly suited to the existing layout of your backyard.
We also install fire pits, which are perfect for year-round use. Our friendly, knowledgeable staff listens to your input and stays in constant contact with you during the installation process, ensuring the project is completed efficiently and correctly. Our attention to detail and strong communication skills have earned us the reputation as one of the best landscaping contractors in Southeast Wisconsin.
Professional Outdoor Kitchen Design and Installation in Brookfield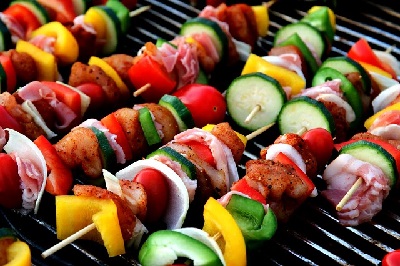 Your dream of a beautiful outdoor kitchen and grill can become a reality at affordable prices. Look forward to the smell of delicious grilled food in the air while you relax and unwind in the summer sun. Take the first step toward transforming your backyard into a summer hotspot and call our experienced landscaping professionals at Oberndorfer Landscape Development.
Let's Get Started
On Your New
Landscape Today!
Office Hours
Monday
8:00am
5:00pm
Tuesday
8:00am
5:00pm
Wednesday
8:00am
5:00pm
Thursday
8:00am
5:00pm
Friday
8:00am
5:00pm
Saturday
Closed
Sunday
Closed
262-512-9509
1000 W Bonniwell Rd
Mequon, WI 53097