Lawn Insect & Disease Control
Professional Lawn Care in Ozaukee County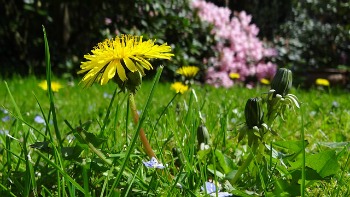 Your lawn is susceptible to a plethora of diseases caused by fungus, soil deficiency, insects, and more. Insects can harm your lawn, and even bring disease into your home. Weak soil or fungus might choke your lawn, leaving it brown and patchy. It takes an expert to properly diagnose and treat what might be harming your grass.
Trust the professionals at Oberndorfer Landscape Development to keep your lawn healthy.
Professional Lawn Disease and Weed Control
Something as simple as low nitrogen could leave your lawn bare and patchy. OSP ryegrass, Fine Fescue Blend, and other grasses found in Southeastern Wisconsin are susceptible to a number of diseases. Finding the cause of the problem is just as important as finding the solution.
Oberndorfer Landscape Development will help you fight weeds and disease, ensuring your lawn stays beautiful.

Fighting Weeds and Crabgrass
The first step in fighting weeds is ensuring your lawn is healthy. Properly aerating and watering your lawn to ensure healthy grass will naturally discourage weed growth. Oberndorfer will work with you to establish irrigation, fertilization, and aeration to encourage healthy growth of your lawn. We even have a number of herbicides should you find yourself faced with stubborn crabgrass or broadleaf weeds.
Diagnosing and Treating Your Lawn
Your lawn is threatened by everything from low nitrogen to invasive fungi. The lawn care professionals at Oberndorfer Landscape Development will properly diagnose and treat lawn diseases. Our vast arsenal of tools allow us to treat:
Large brown spots
Yellowed grass – commonly called "Rust"
Fairy Rings
And more
Brown spots caused by mold can be treated with fungicide. Yellowing grass can be made green with nitrogen rich fertilizer. Fairy rings can be healed with proper lawn aeration.
The lawn disease professionals at Oberndorfer will stop at nothing to make your lawn healthy again.
Applying Insecticide to Your Lawn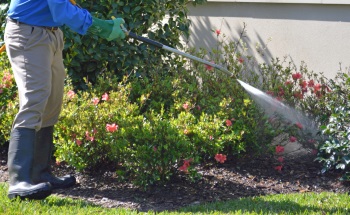 Whether your lawn is plagued by fire ants, white grubs, or ticks, ensuring your lawn and your home stay healthy is our first priority. Oberndorfer Landscape Development is prepared to handle any pest, including:
Beetle Larvae
Ticks
Red Ants
Carpenter Ants
And more
Relying on years of experience, our lawn care professionals will find the right insecticide for your pest problem. We attack early in the spring and fall to prevent larvae from hatching and thoroughly water any affected surface to ensure proper application. Depending on the insecticide used, your family can use your lawn in as little as one day.
Keeping Your Lawn Healthy
Oberndorfer Landscape Development ensures your lawn stays happy and healthy. Our professionals will treat grubs, fungi, and anything in between. We can treat outbreaks and keep them from happening. Whether you need us to repair damage cause by lawn disease, or prevent it from ever occurring, our experts will be there to help.
Contact the lawn disease and insect control experts at Oberndorfer Landscape Development to keep your lawn healthy.
Let's Get Started
On Your New
Landscape Today!
Office Hours
Monday
8:00am
5:00pm
Tuesday
8:00am
5:00pm
Wednesday
8:00am
5:00pm
Thursday
8:00am
5:00pm
Friday
8:00am
5:00pm
Saturday
Closed
Sunday
Closed
262-512-9509
1000 W Bonniwell Rd
Mequon, WI 53097